Rachel Allen's Bacon and Bean Broth
---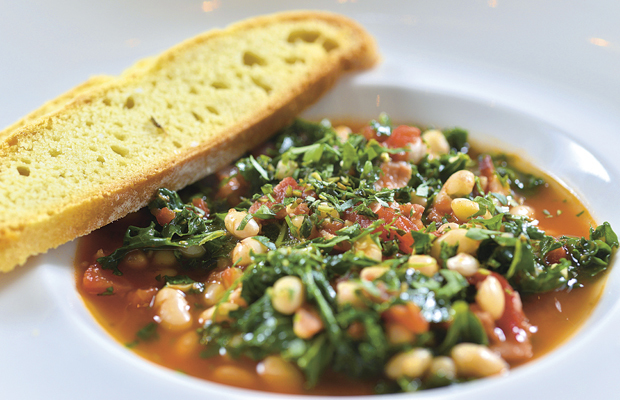 www.the-splash.co.uk/feel-good/eat-clean.
225g (8 oz) dried haricot or cannellini beans
1 bay leaf
1/2 onion
1 carrot
2 tbs olive oil
200g bacon, cut into lardons about 1 x 2 cms (1/2 x 1/4 in)
4 cloves garlic, peeled and chopped
2 x 400g tins of chopped tomatoes
1 ltr 1 3/4 pt) chicken or vegetable stock
1 tbs sugar
Salt and freshly ground black pepper
225g (8oz) curley kale, stalks removed and sliced thinly
2 tbs chopped fresh thyme
2 tbs chopped fresh parsley
www.the-splash.co.uk/feel-good/eat-clean.
Soak the beans in plenty of cold water for about 6 hours or overnight.
  Drain the beans and place in a large pan with the bay leaf, onion and carrot. Cover with fresh cold water and place on a medium heat. Bring to a simmer and continue to simmer for about 45 to 60 minutes, or until tender the beans should squash easily against the pan if pressed with a spoon.
  Meanwhile, add the olive oil to a large flameproof casserole dish and place on a medium high heat. Add the bacon and cook for a few minutes until golden. Next add the garlic and cook, stirring continuously for a minute or so until golden, then add the tomatoes, stock, sugar, salt and pepper and simmer for 10 minutes.
  Drain the beans and discard the carrot, onion and bay leaf. Add the cooked beans to the stew along with the kale and cook for a further 4 minutes until the kale is cooked. Stir in the herbs, then taste for seasoning and serve.