People's Friend Story Writing Workshop, Dundee
---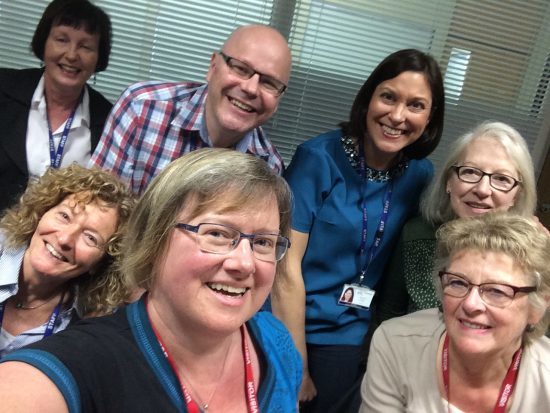 Pic by Virginia Cooke.
That's two workshops down and two to go, and we're having a great time meeting so many aspiring short story writers.
It was Dundee's turn yesterday, here at our current headquarters, which I know sounds temporary, and it is. We move back to our historical headquarters in Spring next year, all being well, after a major refurbishment.
To explain, for a long time we've had two main office buildings in Dundee. One is our iconic red sandstone tower block at Albert Square  in the city centre, and the other a more modern building that's half printworks, half offices.  In the past our newspapers and magazines and their staffs have been divided between the two, but at the moment, everyone's here in the modern block, and come next year we'll all be moving. Many of us began our careers at Albert Square and are very excited to return. What will it be like? We know it'll be completely transformed from the old-fashioned building we know and love. And those of us who've visited our Fleet Street offices know exactly what can be done with an old building.
It's usually for our writing workshops that I've been to Fleet Street, and that brings me back to my point. Yesterday's aspiring short story writers were just thrilled to know they were in the building where it all happens, where the Friend itself is produced, My Weekly, The Beano, Jacqueline Wilson….all our great titles. In fact we brought them up to the office during the lunch break to see our famous view.
One of our guests was Virginia Cooke, who had carefully timed a six-week holiday from Australia to take in our workshop during the Scotland leg of her European tour. Now that's total dedication!
As you can see from her selfie with the Fiction Team – and fellow guest Marion – she was just fair chuffed to meet us all!  And she felt she already knew everyone from their pictures on the People's Friend website. I'm not sure how we felt about that; it's a bit like actually looking like your passport photograph….
Anyway, again we had a smashing day, with lots of great ideas flying around the room. And again my thanks go to my guest writer yesterday, Kate Blackadder, for her essential contribution.
Next week: York. Can't wait!
If you're tempted, we still have some places free for our Manchester workshop with my guest author, the excellent Lydia Jones. Booking form here.