High Flyer – Cotswold RDA's Superstar
---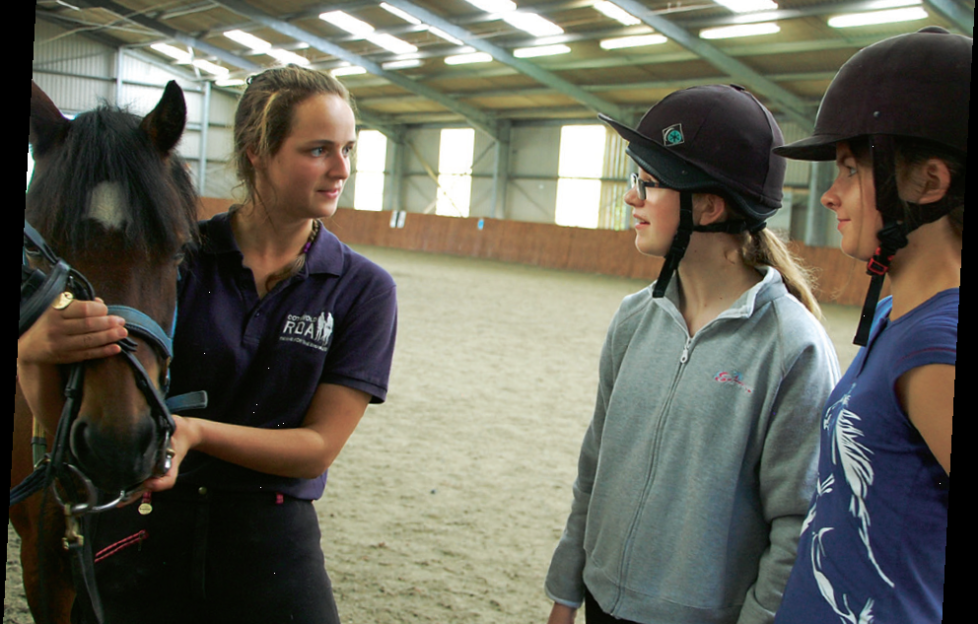 After Toffee went on to pastures new, we met RDA pony, Flyer, who lives at Cotswold RDA and helps children and young people experience the enjoyment and therapy of learning to ride.
In addition to this vital role, Flyer is used for volunteer training, ensuring the group's helpers have the practical skills they need to support their riders.
Being around horses can be a bit daunting and, with vulnerable riders to look after as well, safety is a priority.
With that in mind, volunteering training is a serious business at RDA – but lively ponies like Flyer mean there's always plenty of fun, too.
There are lots of volunteer roles at RDA which don't involve horses and ponies, but when it comes to the actual sessions it's important that all helpers feel comfortable and confident with what they need to do.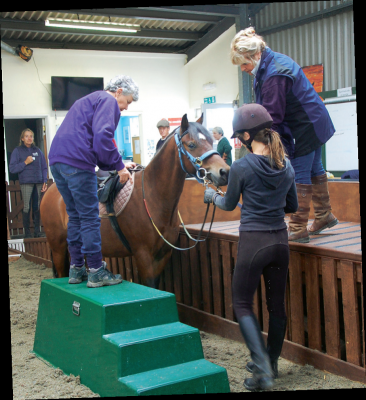 "We don't expect people to turn up for the first time knowing everything already," Heather McLain, Equestrian Education Manager at Cotswold RDA, explains.
"Even volunteers who know about horses will need training in how we work and especially how to support riders."
To begin with, though, it's all about getting the basics right. Practical training kicks off by working through RDA's "Green Card", a basic training record which details the various skills needed to take part safely.
Once complete, volunteers should feel comfortable with a range of skills including appropriate behaviour around horses; tacking up (putting the saddle and bridle on), how to lead a pony, and side helping (where volunteers walk alongside the rider in case they need a bit of extra support).
Flyer is one of Cotswold RDA's training superstars.
"Volunteers can only learn so much working with completely steady ponies who never put a hoof wrong," Heather says. "The real education comes when you work with a pony who knows his own mind. Flyer is perfect for that."
Despite his good manners and friendly disposition, Flyer is a lively, relatively young pony with plenty of get up and go.
He has a brisk and active walk to keep his leaders on their toes, he is curious about the world around him and new experiences can still make him feel a bit nervous.
"Volunteers need to understand that, however well-behaved they are, animals will always be animals," Heather says. "Flyer is a great balance of gentle patience with personality and fun – he's popular with everyone."
One of the volunteers who has been learning from Flyer is fourteen-year-old Gabi.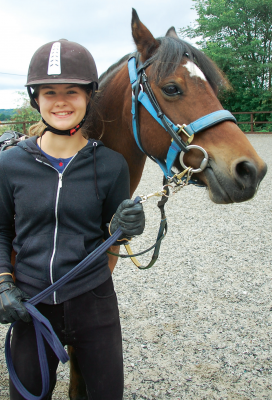 Gabi started volunteering with Cotswold RDA because it offers the perfect opportunity to combine her love of horses with helping out in her local community.
She is developing her horsey skills along the way and recently joined her fellow volunteers for a full day of training.
"I spent most of the day working with Flyer: tacking him up, leading him and practising walking him up to the mounting block," she says.
"Flyer was very well behaved, but something new caught his eye that he wanted some reassurance about."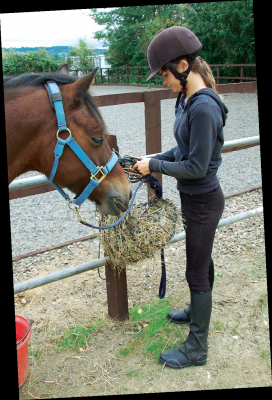 "Over the holidays the indoor school had been painted. There was some bright white paint that hadn't been there before and he was a bit nervous. I had to take him over to have a closer look – then he was fine."
According to Gabi, the final part of the training was certainly Flyer's favourite. "We learned how to fill and tie up the hay nets so the ponies could have their tea!"