Behind The Scenes: Lucy Says Hello
---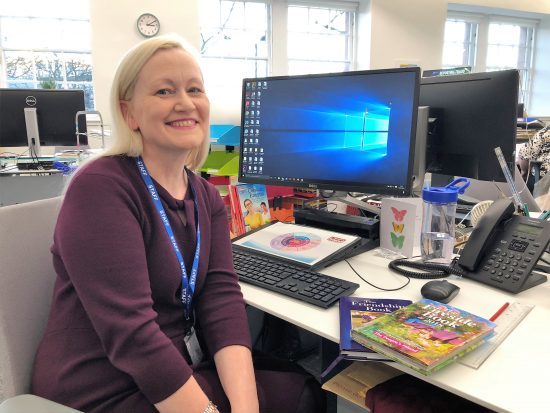 Photo: Shirley Blair
As you know we said cheerio to Alison a couple of weeks ago. Now I thought you'd like to meet Lucy Crichton, who takes over her position in The People's Friend fiction team.
I remember when I phoned you to say you'd got the job there was just this stunned silence; I thought we'd been cut off. Can you describe your feelings at that moment?
I was genuinely surprised. Really delighted. And I found it quite funny being speechless – that's not something that I ever am! It was also because you'd come back to me so quickly. I hadn't expected to hear so soon – it caught me off guard.
What were you most excited about when you heard you were joining the fiction team?
I was excited to join the People's Friend in this 150th anniversary year. I was looking forward to being part of a team. I've genuinely always loved fiction from when I lived across the road from a library when I was a wee girl. I practically lived in the library! Mum and Dad had a newsagent so I was so fortunate in being able to access a wide variety of magazines. I also love reading, and fiction, and also really like dealing with people, so this job encapsulates all those things perfectly.
And I loved working on magazines before…
Talking of, tell us where you've worked before?
I worked on a variety of teenage publications: most recently Shout, which is the UK's top selling teenage entertainment magazine. I also worked for them on a freelance basis. And I worked on Jackie, Blue Jeans, Catch…..
Almost at the end of week 2, how's it been?
Even better than I thought it would be. I've enjoyed all the learning. There's a lot that's new to me in the different procedures and systems. I've enjoyed meeting new people, making contact with writers, getting up to speed with the Friend and what they hope for from their authors.
And how did you hear about the job?
When my twins left for uni, I started looking on the DC Thomson website and I couldn't believe it when this job came up because it was exactly what I was looking for
Has anything surprised you about the job so far?
The variety of different bits and pieces. The number of authors who contribute to the Friend. I like the fact that I'm working on a team within a team.
One word to describe each of your fiction team colleagues?
Alan: patient. Tracey: witty. Sarah: talented. Shirley: the boss!
Did you miss the sneak peek of this week's "Friend"? Don't worry, you can read it by clicking here!  
Enjoy the "Friend"? Why not subscribe so you never miss an issue, and don't have to go out in the bad weather to get it! Click here to see our current offers.