Fiction Sneak Peek: Feb 24, 2018
---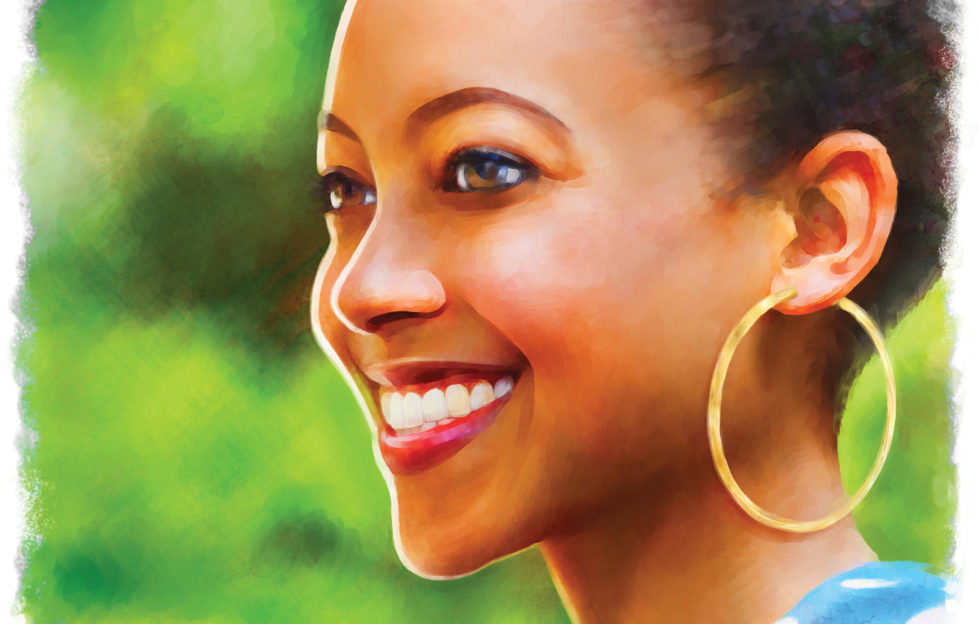 Illustration: Kirk Houston
The illustration above shows Nancy, a teller in a bank in 1970s America. A customer in her queue objects to being served by a person of colour… Brought To Account is one of my favourite stories this week. Alison Carter wrote it, and at the end of it she tells us what inspired her.
However, we open the issue with Winter Music by Rebecca Holmes, illustrated by Andre Leonard. Tom's feeling a bit down, partly the February blues, partly lost-love blues. How does a music shop and the rediscovery of vinyl change his mood?
A dating site that promises love – should Beth believe the hype? That's Singles To Doubles by Angela Petch, one of our newer writers and one whose stories I'm enjoying.
More to this story than you think!
It's good to see a story from Helen Yendall in this issue. It's Postcards From Ellen about a daughter sending her mum postcards from every trip she takes, but there's more to this than you might think. It's a thoughtful story worth reading, brightly illustrated by Sarah Holliday.
We have a second story by Alison Carter, At Kenneston Manor, set in the 1850s. Sophie is companion to Mrs Barnard who doesn't quite realise her worth. Fortunately Philip does…. Illustration: Martin Baines.
In Goodbye Sukey, illustrated by Martin Baines, Kate Blackadder tackles another unusual and sensitive subject for a short story, dementia. Sukey's dad was diagnosed at barely 50…
I was interested to know about Kate's inspiration for the story and talk to her about it as my Writer Of The Week.
The Agony Aunt of Pauline Bradbury's story is Great-aunt Win, who has always seemed unapproachable, not someone to confide in. But when Bel does, she's in for a surprising confession. Illustration: Mandy Dixon.
Series
In Tales From Prospect House by Malcolm Welshman, a seabird finds itself well off course.
In Riverside, meanwhile, is Bob's romance off course, too? You can't miss the latest in our weekly soap by Glenda Young.
Serials
I'm delighted to introduce another first-time serial writer in this issue, Sue Cook, with still another of the entries from that serial writing competition we ran back in 2015 – the one Helen Yendall won, remember?  Sue's story is To St Peter's Fields, set in 1819. The Corn Laws reign, people are starving, unrest shadows ordinary communities, like the one where Mary Andrews lives. Super illustration by Mandy Dixon, too.
And as that serial begins, The Wooden Heart by Mark Neilson comes to a satisfying conclusion. Illustrated by Helen Welsh.
I think we have a really excellent, varied selection of stories for you this week, covering some challenging issues. Let me know what you think, won't you?