Dundee Street Life
---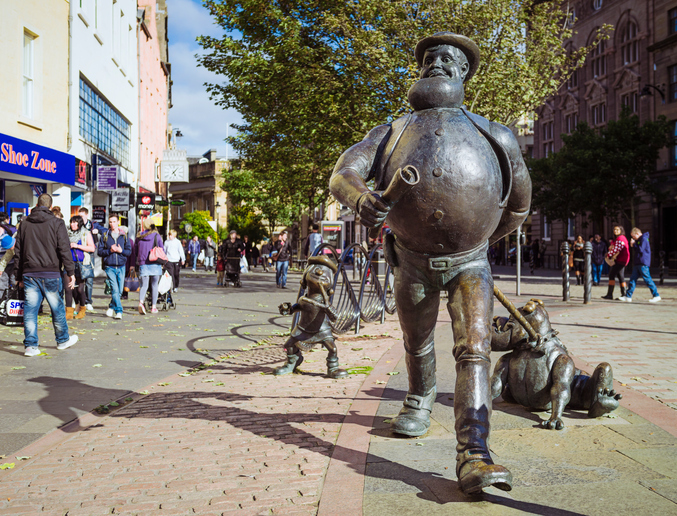 One of the nicest things about a stroll through Dundee is the number of quirky statues you see around the street.
Of course, we have our fair share of the great and the good: Admiral Duncan, from the Battle of Camperdown, consults his telescope outside St Paul's cathedral. Rabbie Burns is here, outside the impressive McManus Gallery. Round the corner from him, you'll find Queen Victoria and then James Carmichael, a local engineer who made great contributions to marine and rail engineering during his career.
But who is this, sitting on the Gallery's wall, upstaging Burns almost as much as the seagull perched on his head?
Cartoons
Why it's Oor Wullie, the spiky-haired cheeky chappie from "The Sunday Post" cartoon. Clutching his trusty pea-shooter and with his favourite upturned bucket seat by his feet, the bronze statue was erected for the DC Thomson character's 80th anniversary in 2016.
He's not the only cartoon brought to "life" in Dundee, either. Along the main street a supersized version of Desperate Dan from "The Dandy" strides along, dragging a reluctant Dawg, both blissfully unaware of a catapult-wielding Minnie The Minx in the background.
Much fiercer is the Strathmartine Dragon, a creature of local legend, prowling Murraygate, a little way behind Minnie.
You'll often find visitors posing for pictures with their cartoon favourites – not so much with Queen Victoria, though!
Discovery
Another much-photographed set of statues is the line of penguins hopping along the wall by the Steeple Church outside the Overgate Centre. They commemorate Captain Scott's voyage to the Antarctic in RRS Discovery, though they're far less formal than their dignified role suggests. Often dressed in colourful outfits to commemorate local events – and usually sporting mortar boards and gowns for graduation ceremonies – these popular characters are a real feature in city life, and even have their own Facebook page!
In this creative city, home of some of the most popular video games, there's even a tribute to one of my favourites. In the West End of the city, overlooking the Tay at Seabraes Gardens, a small troop of Lemmings climbs a pillar close to the old studios where the famous game was made.
With the "Friend" office so close by, it's a pleasure to pass by these artworks on our way in and out. In our Special 154, Dianne Boardman considers some more famous statues throughout the country. Is there one in your town? Do write in and tell us about your favourite statues and what they mean to you – and don't forget to send us a picture!