Abakhan's Sewing Bee Winner
---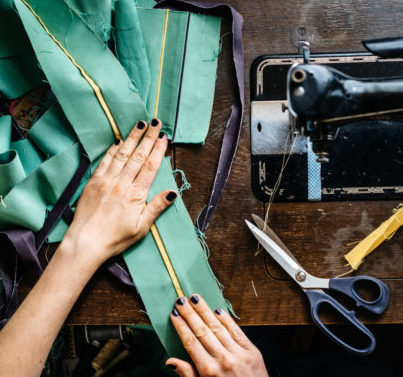 A school teacher from Chester who first started sewing less than a year ago has scooped the top prize in Abakhan's Sewing Bee competition!
Alex Nolan won a Janome sewing machine when she was crowned the country's next great creator
The 24-year-old RE teacher began sewing while on the school holidays last Easter and has become a crafting expert in her own right.
After winning her semi-final in Abakhan's Chester store she went on to the grand final in their Altrincham branch.
Practice makes perfect!
Alex said: "I hadn't used a sewing machine since I was a little girl and attempted to make a summer vest top which turned out to be too small and really awful!
"But I kept teaching myself how to sew with online tutorials and made regular visits to my local Abakhan store because I love the fabrics and materials they have to offer.
"When I saw the notice for the Sewing Bee 2018 competition I decided to enter. It was a challenge to complete the items within the timescale but we had a really great day and I enjoyed every minute of it.
"As soon as I got home I started using my new Janome sewing machine and have already made a dress to celebrate!"
Hard to Judge
Judges Celia Banks from Sew Fundamental and Paul Clarke from BBC TV's Great British Sewing Bee reality show judged the day-long challenge which included contestants from all nine Abakhan stores across North Wales and the North West.
The grand final saw finalists receive an envelope with instructions for them to create a toiletry bag followed by children's pyjamas.
The marketing director of the family-run firm, Beth Abakhan, said: "The judges had a really tough time choosing the winners because we had some unique designs which were made beautifully and included some great features.
"Since launching the Abakhan Sewing Bee in 2016 we've been impressed by how competitors really excelled themselves to produce some great garments, in what are challenging conditions.
"Sewing Bee continues to go from strength to strength and we look forward to welcoming even more contestants next year!"
Do you like sewing? Let us know at the "Friend" what sewing content you'd like to see!