Karlie's Slow Cooker Paprika Chicken Stew
---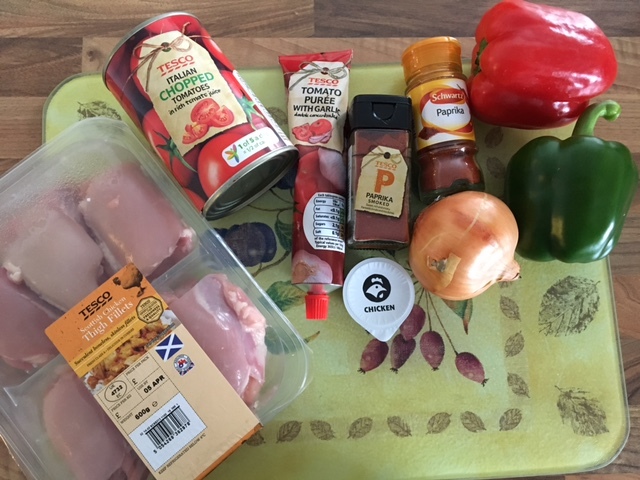 This Chicken Stew is a staple of our family life, it's super tasty and takes little effort, which we're big fans of!
When I recently got engaged, we were gifted John Lewis vouchers and we immediately chose a slow cooker because we'd heard great things. As we both work full time, there was the idea that we'd be able to come home to a ready cooked meal that wasn't a ready meal.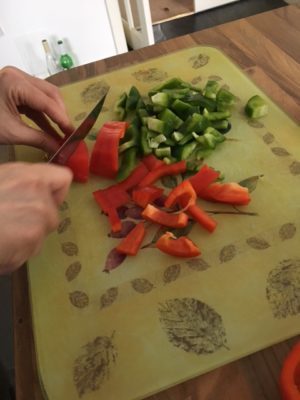 It took a little time getting to grips with a slow cooker, and there were some myths to be busted. Firstly, it's not often you put everything in and close the lid. You do have to do a little work, sometimes browning meat, softening onions and sealing flavours. Admittedly, they're not chores you'd want to do at 6am, so these are best done the night before.  Secondly, it's hit and miss what will work and won't, there were plenty sideways looks at each other as we munched on not-so-tasty combinations.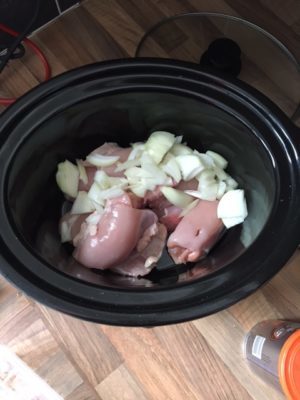 Slow cooker hits and misses
This is a dish I made up after several failed attempts to grasp slow cooking. The trick is, the less liquid, the better. The steam from the cooker will make liquid, so go easy on adding any initially. I also have found that chicken thighs work so much better than chicken breasts. They stay soft and even sometimes melt into the juices. You also get a better flavour, as there is more fat on a thigh, and the meat takes well to be slow cooked. (This is important to remember as in a fug of 'oh look at me, i'm only cooking with chicken thighs from now on' I found out they don't take well to fast meals – far too chewy!)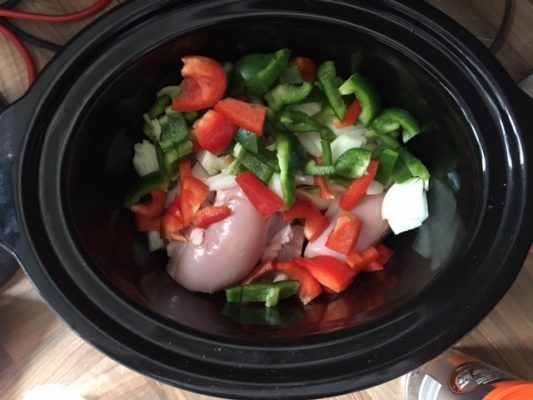 Tomato puree is your friend with this dish and I think Slow Cooking in general. I add in about half a tube, and then check the sauce towards the end, perhaps adding more.
Paprika reminds me of a lovely dish my friend Juliet made for me a few years ago, you know the one with the beans and the eggs? – delicious! I've been a smoked paprika convert ever since, although I haven't attempted to recreate her dish. Add as much paprika as you like, and why not add a dash of hot paprika for winter nights.
Paprika Chicken Stew Recipe
A packet of Chicken thigh fillets (roughly 6)
Tomato puree
Can of chopped tomatoes.
Onion, peeled and chopped.
Peppers, red, green or yellow, sliced
Garlic, 2-3 (or 4 if you like garlic)
Smoked Paprika, at least a tablespoon
Chicken stock cube
Splash of water to dissolve stock cube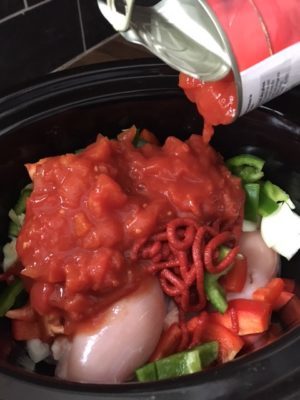 Method
You can brown the chicken thigh fillets in a little oil, but I rarely do. Peel, chop and get all ingredients ready. Boil the kettle. Place chicken thigh fillets into the slow cooker, and top with onions, peppers, and garlic. Add puree and chopped tomatoes, pop the stock cube into the empty can, pour a little boiled water over the stock cube and stir to dissolve.  (This means you capture the last of the tomato juices and don't have to wash an extra dish!). Add the smoked paprika and hot paprika if adding, then pour the stock over. Pop the lid on, and turn the slow cooker to high, cook for 4 hours. Give it a stir halfway. Check the liquid towards the end and if too thin, add more puree and mix in well. Serves with Roast potatoes, mashed sweet potatoes or rice!