Oven-roasted Tomato, Spinach and Mozzarella Tart
---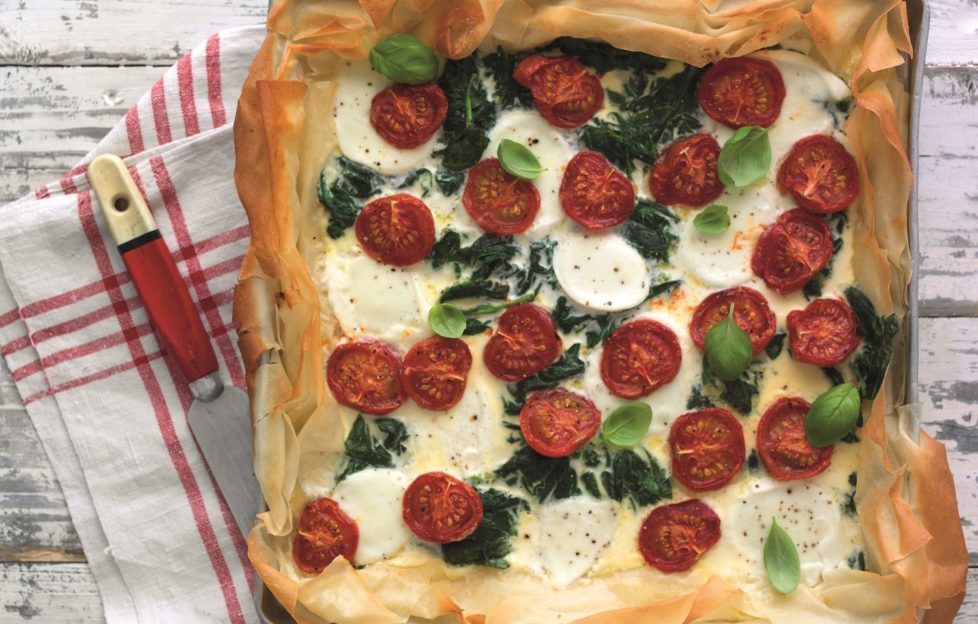 Ingredients
A little butter, for greasing
12 British Medium Vine Tomatoes, halved
1 tbs olive oil
Salt and pepper to taste
200 g (7 oz) young spinach, washed
1 x 270 g pack filo pastry sheets, thawed if frozen
100 g (3½ oz) butter, melted
2 x 125 g balls mozzarella, sliced
2 eggs
150 ml (¼ pt) single cream
To Garnish: basil leaves.
British Tomatoes
This oven-roasted tomato, spinach and mozzarella tart is a delicious treat for your springtime kitchen.
It's also a great way of encouraging the family to eat some fresh vegetables!
Method:
Pre-heat the oven to 180 deg. C., 350 deg. F., Gas Mark 4. Grease a large baking sheet.
Put the tomatoes into a roasting tin, drizzle with olive oil and season with a little salt and pepper. Roast for 10 to 15 minutes, then cool.
Put the spinach into a colander and slowly pour a kettle of boiling water over it to wilt the leaves. Leave to cool.
Unroll the sheets of filo pastry. Brush each one with melted butter and stack them one on top of the other on the prepared baking sheet, criss-crossing them as you layer them. Gather and scrunch the edges, bringing them together to form a border.
Squeeze the excess moisture from the spinach, then arrange on the tart with the tomatoes and mozzarella. Beat the eggs and single cream together and season with salt and pepper. Pour into the tart case. Bake for 20 to 25 minutes until set and golden. Serve, garnished with basil leaves.
Cook's tip: It's easy to make this tart for 4 people – simply halve the quantities and reduce the size of the tart.