Hidden Gems In The Countryside
---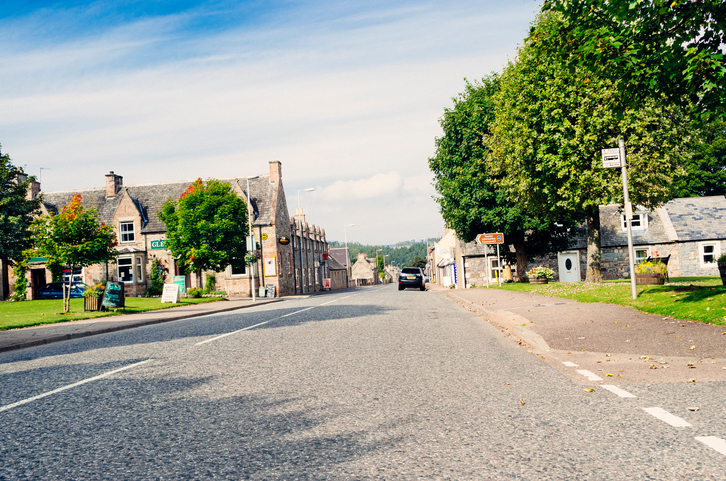 Who doesn't love coming across some hidden gems?
I've driven north through the Cairngorms a number of times. But I've always passed through the wee village of Tomintoul without any time to stop.
Aviemore seems to soak up most of the visitors. But Tomintoul is only a stone's throw away, and has a quiet charm all of its own.
This time we were away to explore parts of the north-east, and it seemed like a good base. We found a B&B and set about heading up to the Lecht, and down towards Forres and the wonderful Knockando Woolmill.
The Woolmill had a long history of being overlooked as well. It was in a serious state of disrepair before it picked up some funding. But now it's a fascinating place to visit, with excellent cakes.
Never Too Old For A Playground
After that day, we went back to Tomintoul again for tea. We headed up to the Queen's View – looking deep into the hills towards mighty Ben Avon. Then we saw the sign for the Adventure Playground, tucked away in the trees. It was absolutely not intended for adults, but it was great fun. Especially at 9.30 in the evening when we were sharing it only with the midgies.
We confessed our session on the zipline the next morning in the B&B at breakfast, when the owner told us he'd been up there once and got caught by his son's primary school teacher!
Next day we headed off to Loch Ness and the Abriachan Community Woodland. Off to cycle some of the trails, my wife explored the treehouses and other bits and bobs around before we went to the Abriachan Eco Campsite and Cafe situated just a wee bit further along the Great Glen Way.
These folks are open 365 days a year, but you won't find a menu or a waitress waiting for you. You just come up towards the house, ring the bell as loudly as you can, and someone will come to tell you what soup is freshly made and what the cake of the day is. Then head back to the wooden benches amongst the trees and await your order.
Tucking into a huge slice of lemon cake and hot chocolate surrounded by friendly hens and a pig called Squeak, we agreed that's always worth heading off the beaten track for an hour or two and seeing what hidden gems you can find.
For more from Alex, read his blog.