WW1 Poppy Parade in Peterhead
---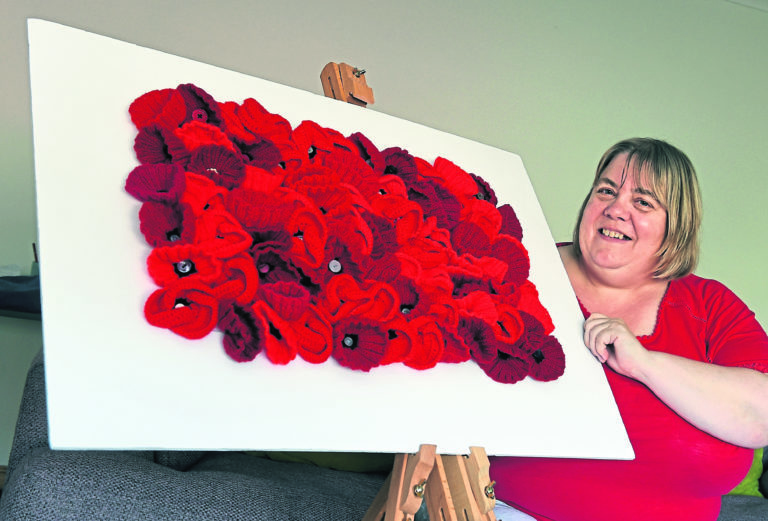 One woman's tribute to WW1's fallen soldiers
Inspired by London's famous Weeping Willow display at the Tower of London, one Aberdeenshire woman is planning a similar tribute north of the border.
It's Nancy Duncan's idea to display thousands of poppies from Peterhead's Baptist Church to mark the centenary of the end of WWI.
But it's not a task for one woman alone, and she has sent out appeals to encourage other knitters to help her achieve her goal.  Every year, people the nation over wear the distinctive red flowers to remember the fallen soldiers.
A cascade of poppies
Once Nancy has received all the knitted flowers she needs, the poppies will be attached to ropes and cascade down the side of the church in King Street in the autumn.  It's been very emotional for Nancy to see her dream coming true.
She said: "I believed the community could rally together on this.
"10,000 poppies seemed like an awful lot, but it's just fantastic we have reached the target.
"I am so chuffed we did it."
Mrs Poppy get to work
Nancy, who used to work in the offshore industry, has been nicknamed Mrs Poppy, and said people have rallied to her cause as she pays tribute to those who lost their lives in the conflict.
Miss Duncan enlisted the help of knitters from the north-east, Moray, Highlands and even Newcastle to help with the project.
"Now I need someone to help me assemble the ropes. I think it will go up about October 27 and come down around the same date in November. That should be enough time for everyone to see it."
Lest we forget
She has also urged cities, towns and villages to consider their own woollen tributes. The 59-year-old said she does not want people to forget the sacrifices made by those who fought in the WW1 conflict between 1914 and 1918.
Miss Duncan is still appealing for people to keep making poppies and any extras will be donated to groups in Mintlaw and Macduff who are working on their own poppy displays.
Anyone interested in getting involved can contact her directly on 07483 223087.
Photo credit:Jim Irvine 25-6-18