Five Fantastic Foods . . . to stay fighting fit this winter
---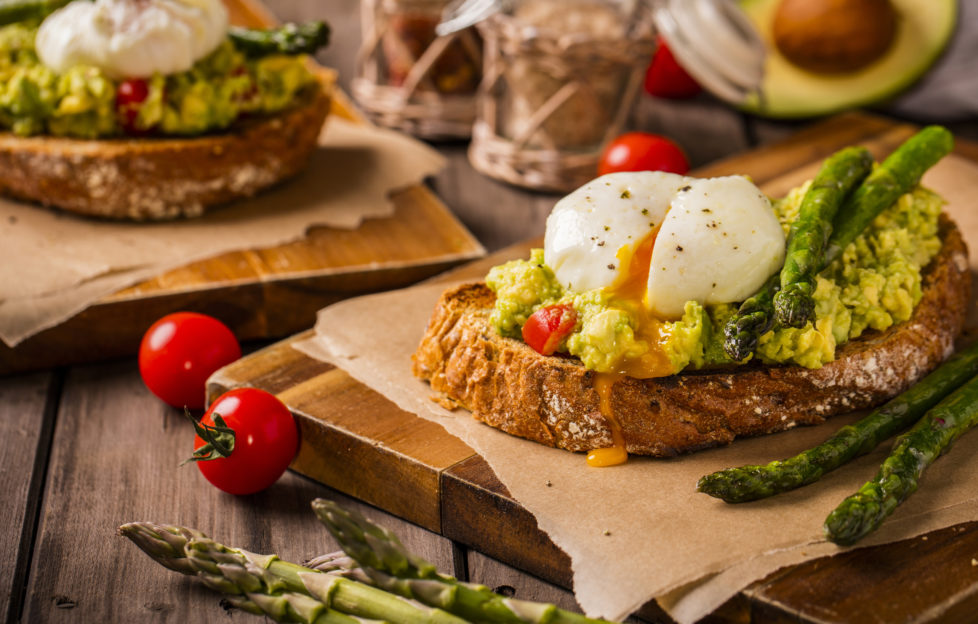 A nutrition-packed start to the day.
Having a healthy, nutritious diet can be the first line of defence to ward off illness this winter and nutritionist Suzie Sawyer looks at just five foods that you should consider putting in your shopping basket.
Avocado For Breakfast
While they may have a higher calorie load than many other fruits or vegetables, they contain heart-healthy monounsaturated fats. Importantly, we need some fat in the diet for energy, body warmth, especially during the winter months, and to help absorb many other fat-soluble nutrients. Additionally, fat helps to keep us feeling fuller for longer, so we're less likely to snack on unhealthy foods. Avocados are also rich in fibre, contain powerful antioxidants and are a rich source of vitamin E, which helps support the immune system.
They're a great way to start the day because they'll keep blood sugar levels in check; they're very low on the glycaemic index meaning energy will be better sustained throughout the day. Have an avocado on wholemeal toast with tomato or an egg, to start your day. There's no better way!
Brazils For Snack
Some people shy away from nuts as they contain some fat but it's mainly the healthy and essential omega-3s. Moreover, Brazil nuts are a rich source of selenium, which is needed to produce glutathione peroxidase, our master antioxidant, which helps protect the body from damaging free radicals, which can make us more prone to infections. The trick with nuts is not to eat too many! Indeed, just two Brazils daily is sufficient to provide what the body needs. They make a great snack which will keep blood sugar levels balanced and will help avoid those dreaded sweet cravings.
Miso Soup For Lunch
While it might not be the most filling of soups, it's certainly tasty and super-healthy! It makes a great lunchtime accompaniment to other protein foods and vegetables. Miso soup is actually one of the staples of the Japanese diet and may be one of the reasons that Japanese women don't appear to suffer from as many hormonal problems as ladies in the UK. Miso soup contains fermented soybeans, which help to balance hormones in both men and women. Additionally, miso soup contains seaweed, a great source of the mineral iodine, which is often deficient in UK diets. Lack of iodine affects thyroid function, needed for the metabolism and also to support the immune system. Most importantly, seaweed is naturally rich in lots of vitamins and minerals so you'll be getting a nutrient boost, too!.
Dinnertime Treat
Jerusalem artichokes, although not always easy to find in the supermarkets, are definitely worth popping in the basket when you do spot the veg. Interestingly, they're not from Jerusalem and are not an artichoke! They are actually part of the daisy family. However, Jerusalem artichokes are packed with a starch called inulin which helps feed the beneficial bacteria in the digestive tract. Healthy gut bacteria is one of the keys to a healthy immune system; with the season for bugs now with us, the immune system needs to be supported as much as possible. Jerusalem artichokes are best roasted. Simply wash and scrape them, cut them lengthways and roast with a little olive oil in the oven. They're very filling and make a wonderful vegetable side to many dishes.
Last, but most definitely not least:
Brussels Sprouts
This wonderful vegetable is in season now and it contains some great health benefits, as long as you don't cook the goodness out of them. Try them lightly steamed and eaten "al dente", or for a bit more flair, why not toss some cooked sprouts with bacon, onions and goat's cheese for a delicious side of vegetables? Brussels sprouts are particularly healthy for the liver because they're high in sulphur and encourage liver detoxification. Plus, they're packed with vitamins and minerals and provide all the amazing health benefits of other cruciferous vegetables such as being high in fibre and antioxidants. No wonder they're such an integral part of Christmas.
And as added protection for your health, especially during the winter months, take a high potency daily multivitamin and mineral supplement such as the Alive! Ultra Wholefood Plus range.
Visit our Health page for more top lifestyle tips.