Reviving Lost Historic Gardens
---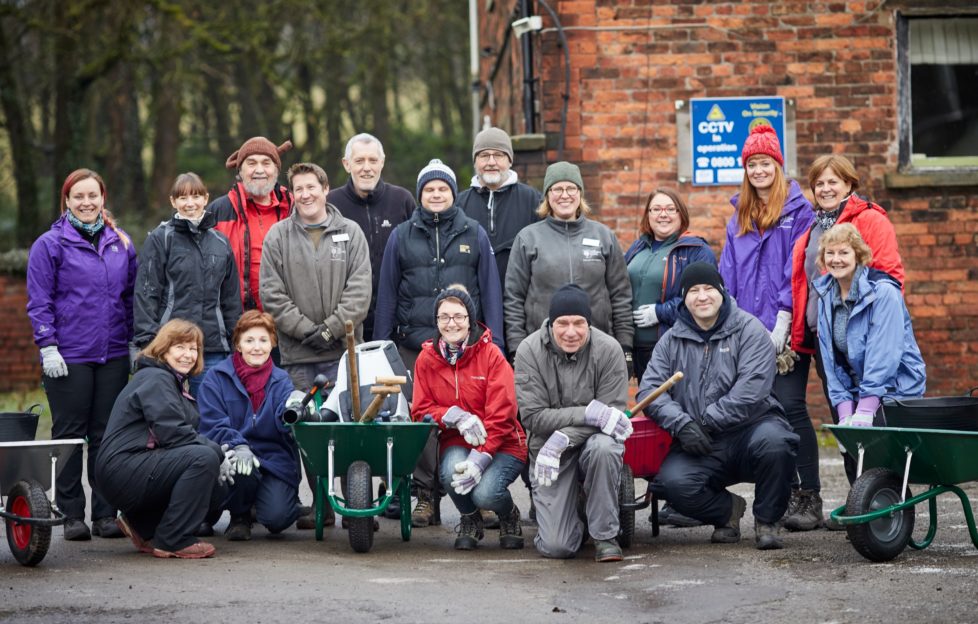 RHS Bridgewater Worsley site volunteer day ..Team shot
There's a great garden makeover on a scale that is difficult to comprehend and it's one of the biggest projects in the history of the RHS.
Worsley New Hall, in Salford, was once surrounded by beautiful terraced gardens, ornate fountains as well as a huge 11-acre walled kitchen garden.
Sadly, the house and extensive gardens fell into disrepair and while the house was demolished, the garden and grounds were left to their own devices.
Now, however, the Royal Horticultural Society, Peel Land and Property and Salford City Council have gathered forces to conduct the biggest garden makeover in Europe, uncovering and reclaiming hidden gems.
Find out more about the fantastic work that's being done in the November 24 issue of the "Friend".
It's a labour of love, as Dianne Boardman discovered, when she did a bit of digging and spoke to some of those involved in bringing the RHS Garden Bridgewater plans to fruition.
'A Lasting Legacy'
Carolyn Collins, Horticulture Level 1 staff, RHS Garden Bridgewater, said: "I loved working as a nurse but after my fifth child I started to study horticulture. I'd always enjoyed gardening with my dad and done bits for friends. I did a volunteer day last year at RHS Garden Bridgewater and then a regular volunteering day. Then I saw a job and thought I'll give it a go, so I applied and got the job, and I am absolutely made up about it!"
Josh Corbett, team leader, Arboriculture, said: "RHS Garden Bridgewater is one of those places where you don't feel like you're going to work. You have a bit of a spring in your step. It's a chance to make a lasting legacy. When I'm a pensioner and it's on the TV I can say, I started that, I helped make that."
Something Amazing
Jo Webster, volunteer, currently completing her RHS Horticulture Level 2 training, said: "I heard about RHS Bridgewater from a garden club, so I ran home, looked online, found out what it was about and it was everything I could possibly want to do. It really was. I'm filling up a bit just thinking about it! The scale of it, the ambition of it, seeing Tom Stuart-Smith's designs for it, then Harris Bugg Studio being given the kitchen garden – it was just like, wow, this is going to be something amazing and I want to help."
Phil Ramsbottom, RHS Garden Bridgewater volunteer, said: "I got my first allotment at the age of sixteen – as soon as I was old enough to put my name down, and I've had an allotment ever since. I'm a local boy and I used to come to the Scout camp here, so I've had a connection with the site since I was a kid. Volunteering at RHS Garden Bridgewater is brilliant. Each week we're learning new skills from how to train fruit trees to operating the mechanical chipper. I'm currently a Head Coach at a swimming club but I want to retrain as a horticulturist. I've always loved horticulture. I think you should always do something you love."
Photographs courtesy of RHS.