Delicious Cranachan Cream
---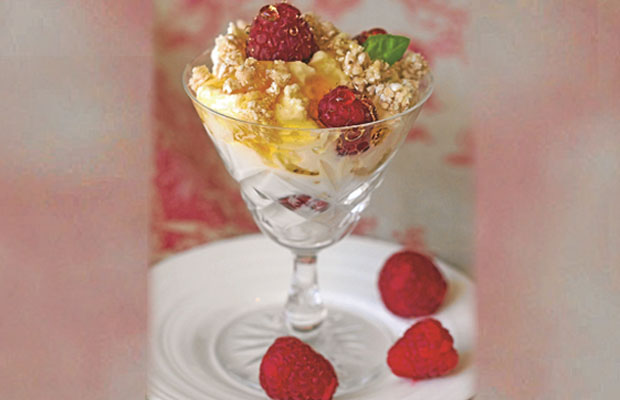 60 g (2½ oz) caster sugar
60 g (2½ oz) pinhead and medium oatmeal
100 ml (3 ½ fl oz) whipping cream
1 tbs whisky
250 ml Greek yoghurt
2 tbs fresh raspberries
2 tbs heather honey
Recipe and image by Karon Grieve.
The traditional dessert of cranachan was originally enjoyed as part of the celebrations following the raspberry harvest in June.
But we think it's distinctly Scottish flavour (with or without whisky . . .) makes it absolutely perfect for celebrating Burns Night, no matter where in the world you find yourself.
Not only is cranachan delicious, it is also really easy to make! You can't ask for much more than that . . .
Method
Heat the sugar in 2 tablespoons of water until it goes golden and stir in the oatmeal, making sure it all gets covered. Spoon into a shallow dish and leave the mixture to cool.
Whip the cream and gently fold in the whisky and the Greek yoghurt and some of the raspberries.
To serve
Spoon into 6 small glasses. Top with a few raspberries and a sprinkling of the candied oats and drizzle with the honey.
The six mini-servings are perfect for parties. Alternatively, will serve two as an indulgent dessert. Hard to resist!
Still hungry? Take a look at some of the other recipes on our cookery pages.
We feature lots of tasty recipes in every issue of "The People's Friend". Subscribe today to make sure you don't miss a single one!