Ken Hom's Mother's Braised East-West Beef Stew
---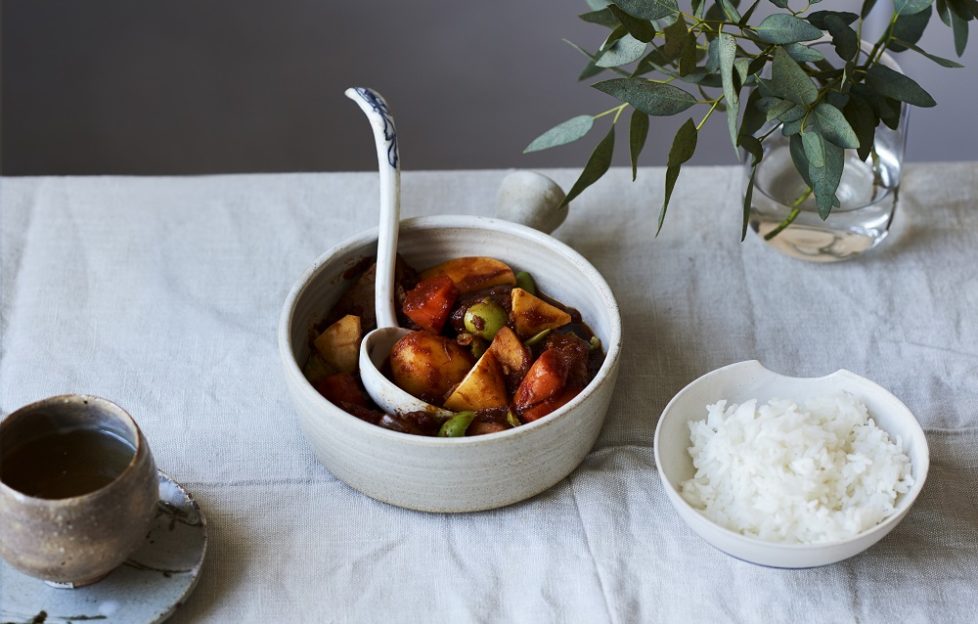 900 g- 1 kg (2 to 2¼ lb) beef brisket, cut into 2.5-5 cm (1-2 in) pieces
2 x 400 g cans of plum tomatoes, drained and chopped
1 tbs olive oil
1 tbs groundnut oil
225 g (8 oz) onions, peeled and chopped coarsely 
2 tbs finely chopped garlic
3 tbs Lee Kum Kee plum sauce
2 tbs Lee Kum Kee hoisin sauce
3 tbs Shaoxing rice wine or dry sherry
1 lemon, zest only
2 tbs Lee Kum Kee Premium light soy sauce
Salt and freshly ground black pepper to taste
450 g (1 lb) carrots, peeled and cut into 1-inch pieces
450 g (1 lb) turnips, peeled and cut into 1-inch pieces
225 g (8 oz) new potatoes, peeled and cut into 1-inch pieces
Small handful of olives
Recipe and image courtesy of Lee Kum Kee.
Method
Blanch the beef for 10 minutes in boiling water. Drain well in a colander, and pat dry with paper towels.
Put the tomatoes into a food processor and blend for just a few seconds or put them through a food mill. Set aside.
Heat a heavy casserole over moderate heat. Add the olive and peanut oil, and slowly brown the beef on all sides. Remove the pieces with a slotted spoon and pour off the excess fat and oil, leaving just 1 tablespoon. Add the onions and garlic, and cook for a few minutes until they are translucent.
Add to the onions and garlic the beef, tomatoes, plum sauce, hoisin sauce, Shaoxing rice wine or dry sherry, lemon zest, soy sauce, salt and pepper. Bring the mixture to the boil, lower the heat, cover, and simmer for 1½ hours, or until the beef is tender. Skim the fat from the surface from time to time.
Add the carrots, turnips, and potatoes and cook, covered, for 20 minutes or until tender. Add the olives and heat them through. Skim off any surface fat and serve at once with plain rice on the side.
"Chinese cuisine is famous for its receptivity and for the flexibility and adaptability of its techniques. This recipe demonstrates these virtues. My mother – who spoke only Cantonese – often prepared braised oxtail stew, a dish that turns out to be a delicious combination of East and West and was inexpensive. Although oxtail is a venerable Chinese food, the tomato-based stew is a Western concept adopted in China a scant one hundred years ago. The soy sauce used in the recipe is of course a staple in Asian cookery; the use of carrots, turnips, and potatoes is strictly Western in spirit. Combined as they are, using Chinese techniques, these different East-West ingredients result in a deliciously hearty dish that contains the best of both cultures.
"In this recipe, I am using beef brisket which works just as well and is very easy to make, reheats well, and tastes even better when reheated. A perfect autumn or winter dish with plain rice. This recipe has the Asian balance of meat and vegetables: more vegetables than meat."  – Ken Hom