Dal Saag – Split Yellow Pea & Spinach Dal
---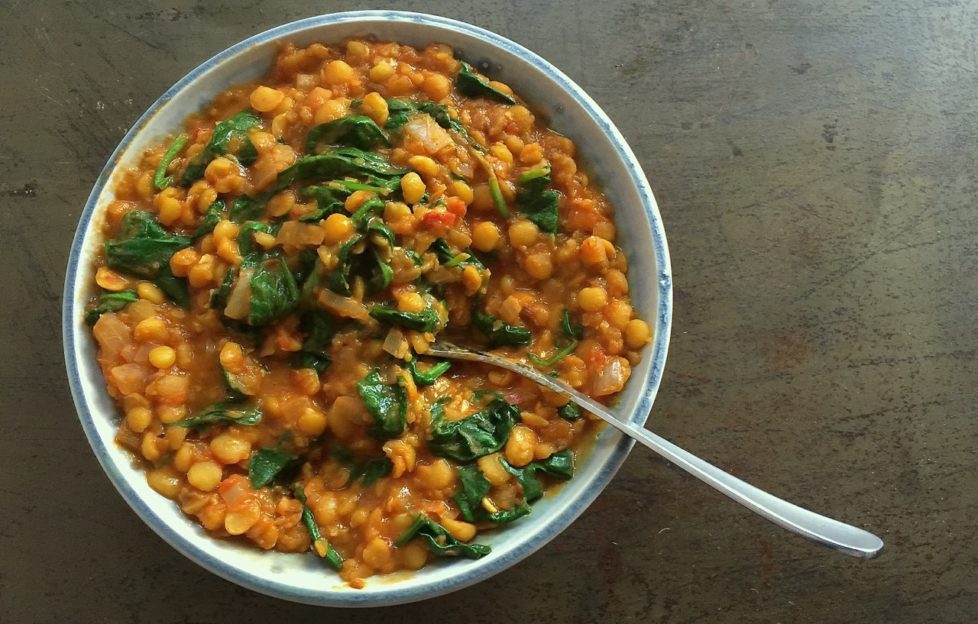 250 g (9 oz) split yellow peas
½ tsp turmeric
2 tbs vegetable oil
1 tsp whole cumin seeds
1 onion, diced finely
2 dried red chillis, chopped (or any fresh or dried, green or red, depending on your preference for heat)
3 cm (1¼ in) piece of ginger, diced finely
2 cloves garlic
½ tsp ground coriander
½ tsp garam masala
200 g (7 oz) chopped tinned tomatoes (or 4 skinned and chopped ripe tomatoes, if in season)
Pinch salt
200 g (7 oz) fresh spinach, washed and chopped roughly (if using baby spinach, just leave it whole)
To Garnish: handful chopped fresh coriander; pinch of amchur powder (dried sour mango), optional.
To Serve: rice or flatbreads.
By Jenny Chandler, and courtesy of the British Dal Festival.
Method
Rinse the split peas in a sieve, place in a large saucepan with the turmeric and cover with about 1 litre (1¾ pints) of cold water. (Soaking the peas for a few hours  beforehand will speed up the cooking but they do only take about 45 minutes to cook from scratch.)
Bring the pan up to the boil and then cover and simmer for about 30 minutes to an hour until the peas are quite soft and creamy. You may need to add more water as the peas cook; depending on whether you like the texture to be thick and chunky or more like a creamy soup.
Meanwhile, heat up the oil and fry the whole cumin seeds until fragrant. Add the onion, chilli and ginger and cook for about 10 minutes until the onion begins to soften. Turn up the heat and stir in the garlic, coriander and garam masala, cooking just until you are enveloped in all the wonderful smells. Add the tomatoes and simmer for a couple of minutes.
Once the split peas are soft and cooked through you can add the tomato mixture, along with a pinch of salt, and continue to cook for about 5 minutes.
Throw in the spinach at the last moment, it barely requires any cooking at all, just a couple of minutes in the hot dal will wilt it beautifully. Kale or Swiss chard are also great options and take about 5 minutes to cook in the dal over a medium heat.
You could add chopped fresh coriander or a pinch of amchur powder (dried sour mango) just before serving.
Serve hot with plain rice or flat bread.
February 10 – 17 is the British Dal Festival, a "celebration of the humble pulse"! 
Find more recipes in the cookery pages.