Hot Cross Buns
---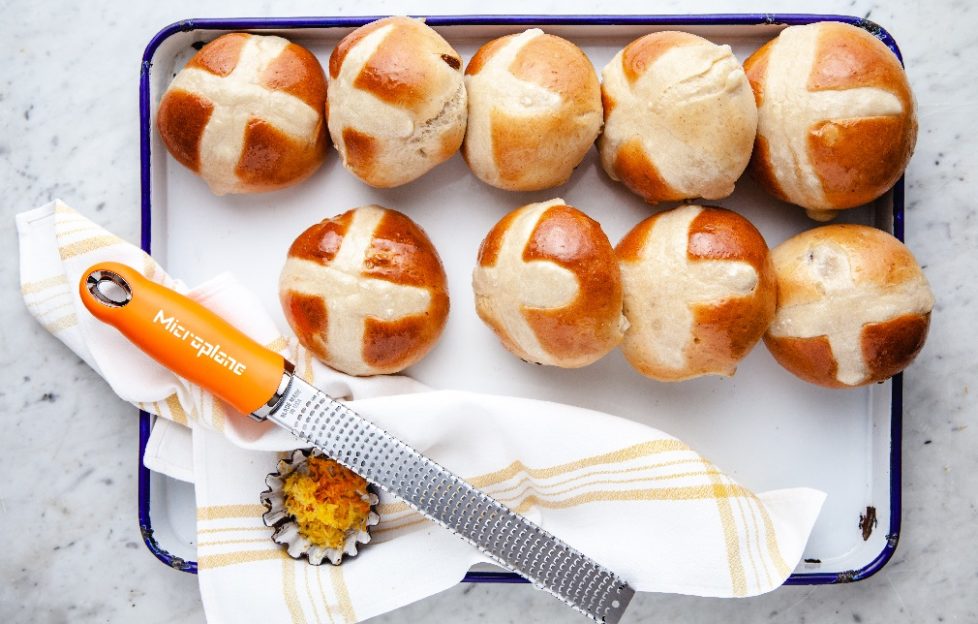 Ingredients
70 g (2½ oz) butter
250 ml (9 fl oz) milk
500 g (1 lb 2 oz) flour
10 g (¼ oz) dried yeast
70 g (2½) of sugar
1 egg
1 tsp gingerbread spice
½ tsp salt
1 tsp vanilla paste
1 lemon, zest only (use the Microplane® Premium Classic Zester)
1 orange, zest only (use the Microplane® Premium Classic Zester)
50 g (1¾ oz) raisins
60 g (2¼ oz) mixed peel
For the Topping:
2-3 tbs flour
Apple jelly
Recipe and image courtesy of Microplane.
Who doesn't love hot cross buns? Nothing says "Easter" quite like them!
In a saucepan, melt the butter and add the milk. Let it cool until lukewarm.
Put the flour, yeast, sugar, egg, spice, salt, vanilla paste and the lemon and orange zest into a mixing bowl. Add the butter-milk mixture and knead into a fine dough. It should break away from the bowl edge.
Cover the dough and leave to prove for one hour.
Chop the mixed peel finely and mix with the raisins.
Knead the dough with the dried fruits and form 12 small balls (like bread rolls). Place on a baking tray lined with baking paper or place in a greased dish. Let them rest again for about 30 to 60 minutes. Meanwhile pre-heat the oven to 170 deg. C., 325 deg. F., Gas Mark 4.
To make the topping, mix the flour into a paste with 2-3 tablespoons of water. Put the mixture into a freezer bag. Cut off a small corner of the bag for piping.
Just before baking, place the "cross" on to the rolls by piping through the cut corner.
Bake the buns in the pre-heated oven for about 15 to 20 minutes until golden.
Heat the apple jelly (or other light jam, such as apricot) and glaze the hot cross buns after baking.
Cool before eating.
If you liked this recipe, you can find more inspiration on our Cookery pages.