Asparagus and Sweet Potato Hash with Avocado and Egg
---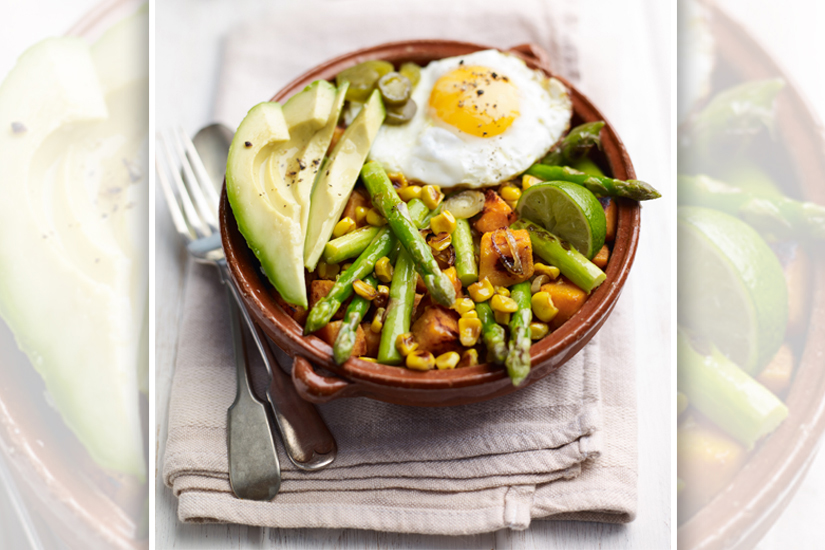 Ingredients
1 sweet potato, peeled and cut into small chunks
1 bunch British asparagus, spears halved
3 tbs olive oil
1 shallot, sliced finely
2 handfuls of sweetcorn – frozen is fine
1 tsp garlic granules
1 tbs sliced jalapeno peppers from a jar, optional
Salt and freshly ground black pepper, to taste
2 eggs
1 avocado, sliced
1 lime
Recipe and image courtesy of British Asparagus.
As British asparagus season officially started yesterday, we're celebrating the return of this versatile vegetables to our shelves with a delicious new recipe.
Boil a kettle and fill a saucepan with hot water. Add the sweet potato chunks and bring back to the boil. Simmer for 5 minutes, then add the asparagus for 2 minutes until softened. Drain and leave to steam.
Meanwhile, heat half the oil in a large frying-pan.
Tip the drained vegetables into the hot pan with the shallot, sweetcorn, garlic granules and jalapenos, if using. Toss to coat in the oil and season. Cook, stirring occasionally, until the veg is browned and toasty.
Meanwhile, heat another pan with the remaining oil and fry the eggs. Tip the vegetables into 2 bowls, top with slices of avocado, squeeze some lime over and top each with a fried egg.
Did you know it's possible to eat asparagus a different way every day of the eight-week-long season? Head over to the British Asparagus website for more recipes to try!
If you're looking for more kitchen inspiration, visit our cookery pages.
We feature plenty of delicious dishes every week in the printed edition of "The People's Friend". If you're looking for something new to try, make sure you don't miss out — subscribe to the magazine today!
If you subscribe by Direct Debit, you'll even save a massive £29!