Oor Wullie's BIG Bucket Trail 2019
---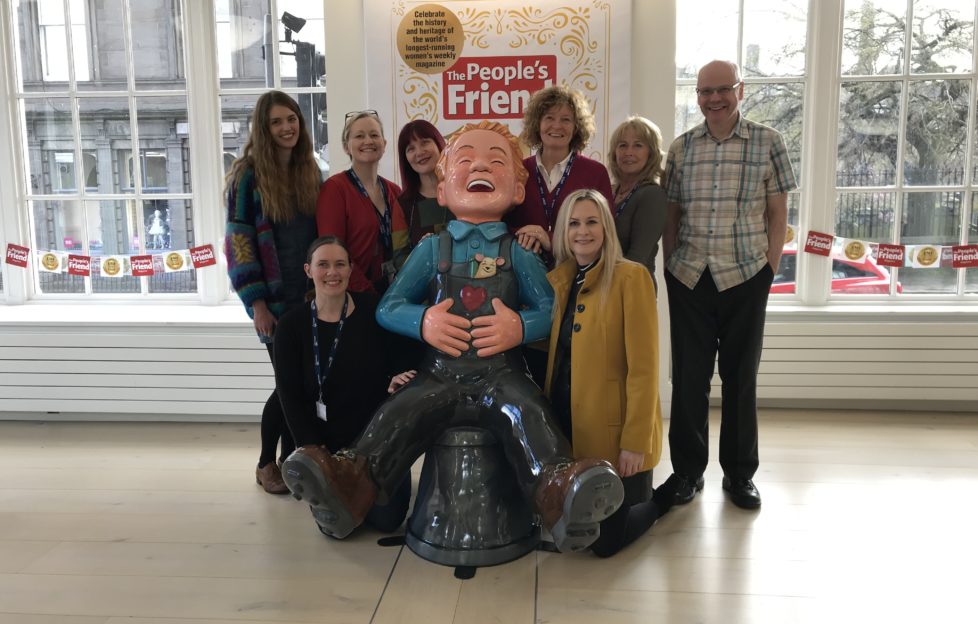 Illustrations Editor, Sarah, with some of the "Friend" team, and Sarah from The Archie Foundation.
This summer, Scotland is hosting the world's first ever national public art trail.
From June 17 until August 30, five cities will host "Oor Wullie's BIG Bucket Trail" – Dundee, Inverness, Glasgow, Edinburgh and Aberdeen.  So what's it all about, and how is the "Friend" getting involved?
The First Bucket Trail
You may remember Dundee's first Bucket Trail in 2016, which raised £883,000 for Tayside Children's Hospital. 2018 saw the Maggie's Penguin Parade, which raised £540,000 to help Maggie's support local people living with cancer.
Fast-forward to January of this year, and a talented team of artists – including our amazing Illustrations Editor, Sarah – were commissioned to paint one of more than 200 life-size 'Oor Wullie' statues, and it's these which will form the 2019 Big Bucket Trail.
What is the Oor Wullie BIG Bucket Trail?
It's a free public art trail which will put the "fun" into fundraising! All monies raised will go towards transforming children's experience of hospitals and healthcare. Behind the idea are three children's charities – the Edinburgh Children's Hospital Charity, Glasgow Children's Hospital Charity, and The Archie Foundation. They've teamed up with DC Thomson Media, publisher of the "Friend" . . . and Oor Wullie, of course!
Also involved are Wild In Art, who create public art events – raising funds for good causes while helping us experience art in non-traditional settings.
How is the "Friend" getting involved?
We're delighted to be an Oor Wullie's Big Bucket Trail sponsor! Illustrations Editor, Sarah, has been disappearing out of the office most afternoons to work on our very own "Friend" Wullie.
"We are proud and excited to support the great work done by The Archie Foundation Tayside," Editor, Angela, says.
"Having an Oor Wullie statue of our very own is a brilliant way to celebrate the magazine's 150th birthday! We can't wait to see Sarah's finished design!"
Would you like to help?
*Come and visit one of the trails with friends and family – perfect for a day out in the school holidays.
*Become a sponsor, or donate – for more info and fundraising ideas, visit www.oorwullie.com/fundraising.
*Fundraising ceramic, paint-your-own 'Wullie' figurines will be on sale in our shop this summer, to coincide with the Trail.
Find out more about the Big Bucket Trail in "The People's Friend", on sale 11 May.