Banana And Coffee Loaf
---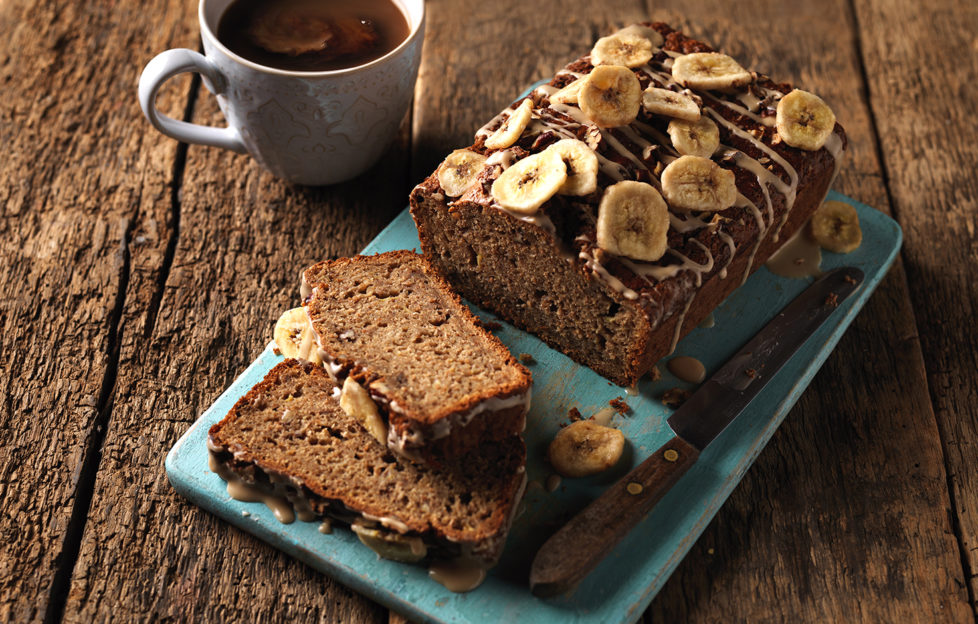 Ingredients
2 Lyons Coffee Bags (No.3)
100 ml (3½ fl oz) milk (or cold water for dairy-free)
2 large ripe bananas
1 egg
½ tsp vanilla extract
1 tbs oil
150 g (5½ oz) self-raising flour
150 g (5½ oz) wholemeal self-raising flour
125 g (4½ oz) demerara sugar
A pinch of salt
40 g (1½ oz) pecan nuts, chopped
For the Icing:
100 g (3½ oz) icing sugar, sifted
Excess coffee from loaf recipe
To Decorate: dried banana chips.
Recipe and image courtesy of Lyons Coffee.
During UK Coffee Week (April 29 – May 5), thousands of participating coffee shops are raising funds for Project Waterfall.
The charitable initiative brings clean water, sanitation and education to coffee-growing communities across the world.
Support them in your own way with this delicious Banana And Coffee Loaf!
Pour 175 ml (6 fl oz) of freshly boiled water into a measuring jug. Add the coffee bags, stir and squeeze then leave to brew for four minutes.
Pre-heat oven to 180 deg. C., 375 deg. F., Gas Mark 4. Line a large loaf tin with non-stick baking parchment.
Remove the coffee bags, squeezing out the last bit of coffee, then pour out a couple of tablespoons into a small bowl and reserve for the icing, Measure the milk or cold water into the jug with the coffee.
Peel and mash the bananas with a fork on a plate then transfer to a small bowl. Mix in the egg, vanilla and oil.
Mix the flours with the sugar and salt in a large bowl then stir in the nuts, reserving a few chopped nuts for the top.
Add the banana mix to the dry ingredients then pour in the coffee. Combine quickly without over-working. Tip into the tin and smooth the top then sprinkle over the rest of the nuts.
Bake in the pre-heated oven for 50 minutes. Check that the loaf is ready by inserting a wooden skewer into it – if it comes out clean, the loaf is ready. If not, leave to cook for another 5 minutes and check again. Cool in the tin.
To make the icing, mix the icing sugar with the reserved coffee until the right consistency to spoon over the loaf. Drizzle on the coffee icing then decorate with banana chips.
Serve sliced with a little butter if desired (or nut butter for dairy-free).
If you're looking for more kitchen inspiration, visit our cookery pages.