Sausage And Jersey Royal Bake
---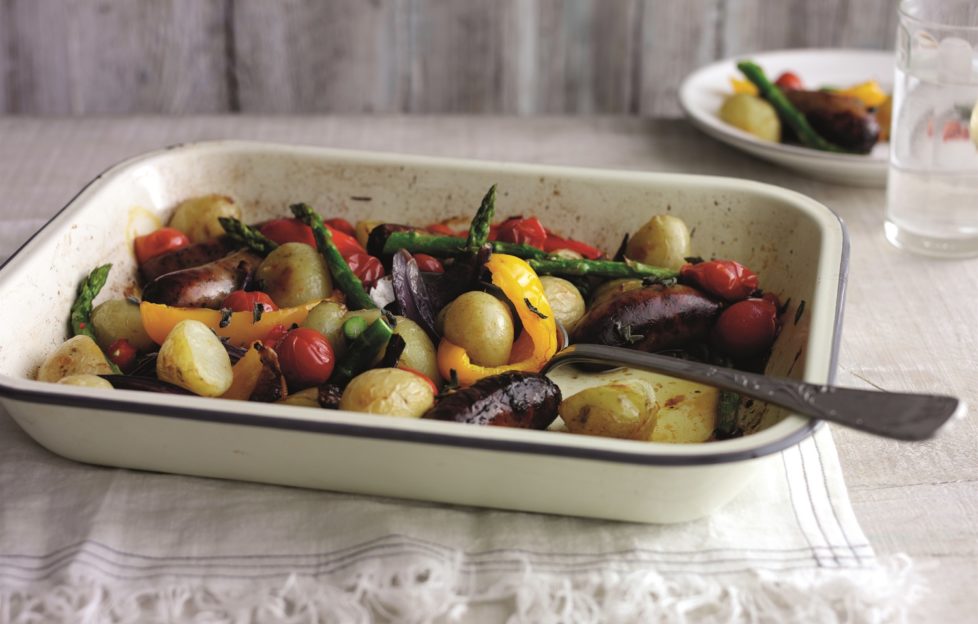 Ingredients
600 g (1 lb 5 oz) Jersey Royal new potatoes, scrubbed (not peeled) and cut in half lengthways
8 large herb sausages
2 tbs olive oil
1 medium red onion, peeled and cut into 8 wedges
½ red pepper, deseeded and cut into quarters
1 yellow pepper, deseeded and cut into quarters
2 cloves garlic, chopped finely
10 large sage leaves, chopped roughly
200 g (7 oz) cherry tomatoes
150 g (5½ oz) asparagus
2 tbs balsamic vinegar
Salt and freshly ground black pepper, to taste
To Serve: crusty bread; mustard.
Recipes and image courtesy of Jersey Royal New Potatoes.
The humble potato. You can boil it, mash it, stick it in a stew.
Or, as we're recommending this week, bake it with some sausages. A perfect dinner for a chilly night!
Method:
Pre-heat the oven to 200 deg. C., 400 deg. F., Gas Mark 6.
Cook the Jersey Royals in a medium saucepan of salted water for 8 to 10 minutes until just tender.
Add the sausages to a large roasting tin with 2 tablespoons of olive oil and roast for 10 minutes.
Drain the Jersey Royals and add to the roasting tin with the onion, peppers, garlic, sage and balsamic vinegar. Mix well together and roast for 25 minutes until vegetables are slightly caramelised around the edges, stirring occasionally.
Scatter over the tomatoes and asparagus, mix well and roast for a further 10 minutes until the sausages are golden and cooked through.
Serve hot with crusty bread and mustard.
Voila, the perfect Sausage And Jersey Royal Bake!
Still hungry? Click here for more delicious recipes!