Smoked Haddock And Watercress Fishcakes
---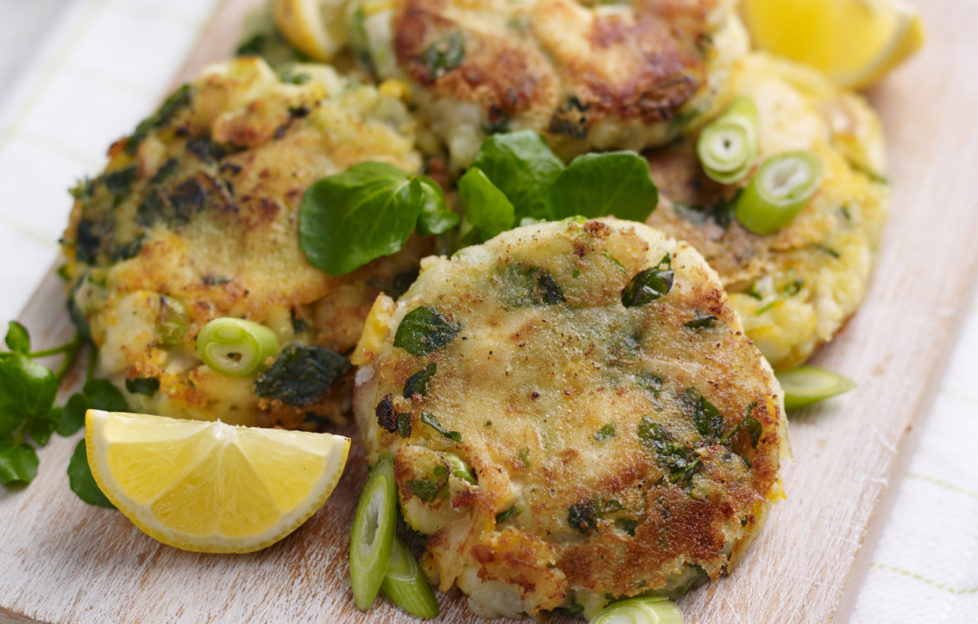 Ingredients
400 g (14 oz) potatoes
30 g (1 oz) butter
Salt and freshly ground black pepper, to taste
500 g (1 lb 2 oz) smoked haddock
1 lt (1¾ pt) milk
85 g (3 oz) watercress
2 spring onions, sliced
1 lemon, zest only
2 tsp oil
Flour to dust
To Serve: salad.
Recipe and image courtesy of www.watercress.co.uk.
If you're keen to eat healthier, then we think these fishcakes are a great place to start.
Fish is full of important nutrients, and may even lower your risk of heart attacks and strokes. And it's delicious, too!
Method:
Peel the potatoes and chop into small chunks. Cook in boiling water for approximately 10 minutes until tender.
Drain, then add the butter, season to taste. and mash roughly.
Meanwhile, in a large, deep frying-pan, gently cook the fish in the milk (in 2 batches if necessary) for 8 minutes or until it flakes. Lift the fish out of the milk and set aside on a plate.
Chop the watercress.
When the fish is cool enough to handle, flake it into a large bowl, add the mashed potatoes, watercress and spring onions, and grate in the lemon zest.
Gently combine all the ingredients, then shape into 8 fishcakes using your hands. Leave to chill in the fridge for 30 minutes.
Heat the oil in a frying-pan. Dust both sides of the fishcakes with flour, then gently fry on each side until they are browned and hot to the centre. Serve with a salad.
There you have it: a simple, tasty and healthy meal.
Still hungry? Take a look at some more recipes here, or click the related articles below.