A Warm Welcome For Refuweegees
---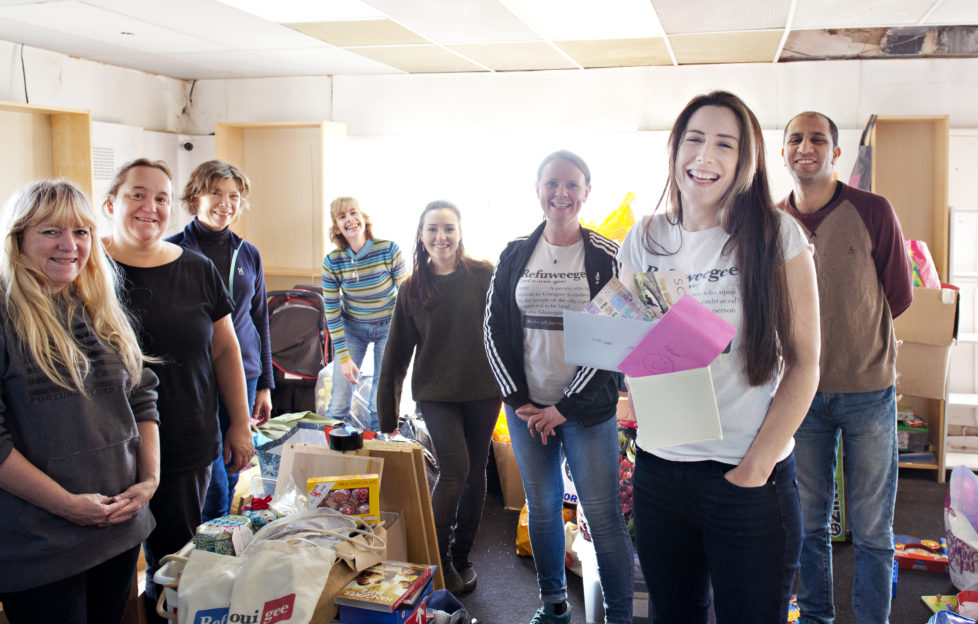 As the refugee crisis continued to rock the world in 2015, Glaswegian Selina Hales knew that she had to do something to help.
But with children at home, she knew it would be difficult.
Then she hit on an idea. She could help make sure refugees arriving in Glasgow received the warm welcome that makes the city famous.
"Refuweegee started as a project which I thought I would be able to run from my living room. Little did I know then how big it would become!" Selina said.
"I set the charity up to make sure that our city's 'People Make Glasgow' slogan actually extended to everybody, and that the forcibly displaced people who were arriving here were welcomed properly."
The Welcome Packs
Selina decided that gifting each refugee with a welcome pack would be a great way of helping them settle in to life in Scotland.
"First of all, we put out a plea on social media for donations, and the response was amazing. The whole premise of it was to give people the things that they might need when they first arrive.
"Items like toiletries, a hat, scarves and gloves, stationery, sanitary towels and razors. Nothing extravagant. We also wanted to give refugees items that would provide them with an introduction to Scotland. We knew we wanted to leave that completely up to the community. As a result we get loads of donations of Tunnock's Tea Cakes, Iron-Bru and shortbread!"
It was important that everyone could contribute to the packs — no matter their own circumstances — and extend a friendly hello to the city's new residents.
"We wanted people to be able to extend that welcome through their words as well, because not everyone will have the money to be able to contribute.
"As a result, each welcome pack that we put together includes 'A Letter Fae The Locals'!
"It's these letters that really capture the city and beyond. Consequently, we get so much feedback from refugees telling us that just knowing someone in the city was thinking of them meant so much."
Refuweegee's welcome packs are distributed to people arriving in the city through partner organisations including Migrant Help, which has branches in both Govan and Paisley.
Wonderful Feedback
"When our packs go out, we include a stamped addressed envelope in with them. That way, people can provide us with feedback or tell us a little about their own story.
"More often than not, though, people use these envelopes to say thank you. They also often say that the pack made them feel really welcome in the city, which is just wonderful.
"The most beautiful letter we received said:
Dear Refuweegee,

I can only imagine what a magically beautiful gift, life would be if the world was only filled with such compassionate souls.

I am speechlessly heartened by such a rare and unexpected act of love and humanity in my moments of despair.

I am forever indebted.
"When we go out to schools and workplaces to tell them about our work, we always use that letter. Because it highlights how one tiny simple act of kindness can have such a huge impact on somebody's life.
"Basically, we gave that person a bag filled with a second-hand bits and pieces. But when you read that letter, you'd think that we'd given them a palace.
"It really helps us to emphasise that, quite simply, all we're doing is being kind.
"If we all did that, just imagine the difference we could make."
Refugee Week takes place from June 17-23, 2019. The UK's largest festival celebrating the contribution of refugees, it aims to encourage understanding of why people seek sanctuary through cultural and educational events.
If you want to learn more about the charities supported by "The People's Friend", then visit our Helping Others pages.