Delicious Thai Turkey Burgers
---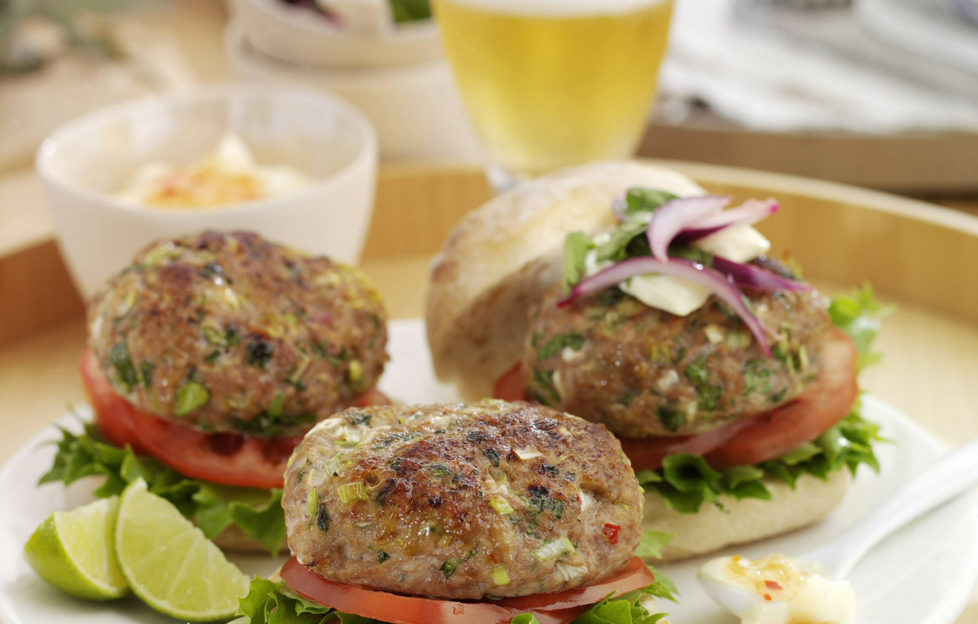 Ingredients
450 g (1 lb) British turkey mince
3 tbs sweet chilli dipping sauce
1 tbs soy sauce
1 tsp each minced ginger and garlic
Finely grated rind of 1 lime
4 spring onions, chopped finely
Large handful fresh chopped coriander
Salt and freshly ground black pepper, to taste
4 crusty burger buns
4 tbs mayonnaise
To Serve: lettuce; tomato; lime.
Recipe and image courtesy of British Turkey.
These delicious Thai Turkey Burgers are perfect if you like a bit of spice in your life!
Plus, turkey has a range of health benefits. Eating it can strengthen your immune system, boost your metabolism, and is good for your teeth and bones.
Method:
Mix the turkey mince, 2 tablespoons of the sweet chilli sauce, the soy sauce, ginger, garlic, lime rind, spring onions, half the coriander and plenty of freshly ground black pepper until well combined.
Form into four burgers (the mixture will be quite wet, although this will result in moist, juicy burgers).
Pre-heat the grill to hot. Arrange the burgers on a foil-lined grill pan and grill for 6 to 7 minutes on each side until golden.
Grill the burger buns until toasted. Arrange a burger on each toasted bun base with lettuce and tomato, if liked.
Mix the remaining coriander with the mayonnaise and season with freshly ground black pepper.
Top with a spoonful of mayonnaise and a drizzle of remaining sweet chilli sauce.
If you're still hungry, click here to take a look at our cookery section.
If these Thai Turkey Burgers in particular have inspired you, click the tag below to see some similar dishes.