Flint-knapping And The Festival Of Archaeology
---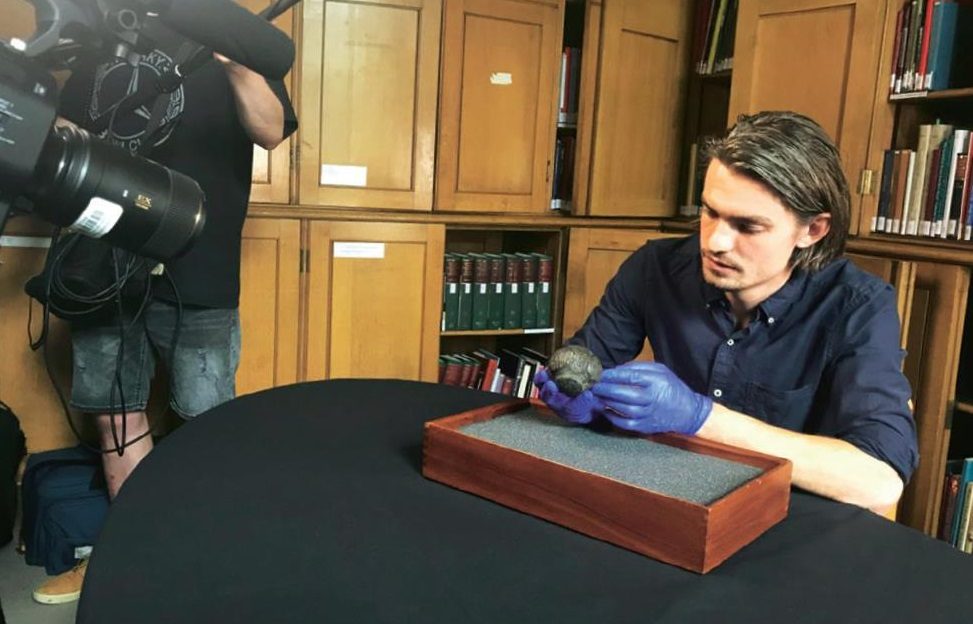 As the Festival Of Archaeology runs from July 13-28, we thought we'd do some digging through old issues to find our own buried treasure.
That's where we found flint-knapper James Dilley, a man who is part of a very exclusive club.
"I'm one of the few people with work on display at the British Museum who hasn't been dead for thousands of years," he jokes.
His collection of replica Stone Age tools and weapons is part of a display commissioned by the museum in 2017, and has been viewed by thousands – including the Queen.
James is one of only a handful of people worldwide with the experience and expertise to produce authentic replicas of prehistoric artefacts from the Iron, Bronze and Stone Ages, using the same methods as the workers of the time.
His unusual skillset includes flint-knapping – breaking flint into a useable blade – and producing bronze arrowheads and swords.
Unsurprisingly, James has gained a reputation as a respected authority on these ancient activities. As a result, he has appeared on both "Coast" and "Invasion!" for the BBC, Channel 4's "Time Team", and on the National Geographic and Travel channels, sharing his knowledge with the cameras.
Acquiring the skills
But how did this twenty-five-year-old acquire skills that were in use thousands of years ago?
"I was about seven years old and watching a programme on the Stone Age when I saw someone demonstrate flintknapping," he explains.
"The craftsman on the TV made it look easy – the raw material just seemed to buckle to his will.
"I rushed into the garden and grabbed the gnarliest, most frost-damaged bit of flint you can imagine, whacked it and tried to beat it into submission!"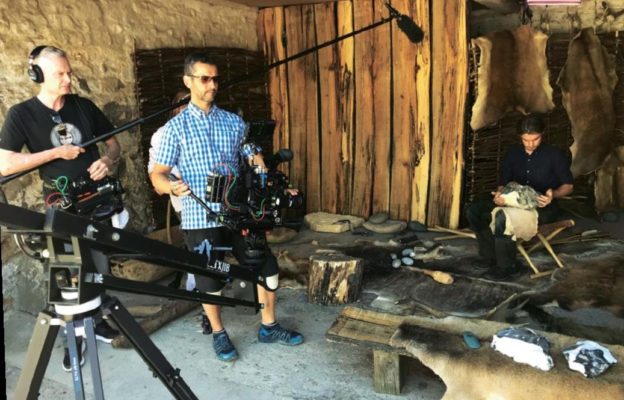 While this first attempt resulted in some "rubbishy chunks", James spent the 18 years that followed honing his skills. He practised and learned from experts in order to acquire a level of flint-knapping prowess rarely seen in modern times.
"Workers in pre-history would have faced exactly the same problems that I face today," he says. "But they managed to get around it, using the same tools as I do – just pebbles and pieces of antler."
"Flint-knapping is very unforgiving and very difficult; it's quite a craft to understand the angles and fracture mechanics, and the way the shock travels through the stone.
"It's very unpredictable, and never consistent. You can get two flints from next to each other in the ground and they can react completely differently."
A fragile craft
Thankfully, with a mixture of collaboration, trial and error and self-discovery, James has learned to bend metal to his will. He can now create authentic replicas of Bronze Age weapons and tools, including axeheads and swords.
"I now do demonstrations and workshops on Stone, Bronze and Iron Age crafts at different locations throughout the UK. And I've also made appearances on documentaries about prehistoric times."
By exposing his work to a wider audience through his demonstrations and his website, James is also hoping to inspire another youngster to turn their garden play into something more meaningful.
Ultimately, his aim is to keep flint-knapping – and other ancient skills – alive.
"When I started out, I was the youngest professional flint-knapper in the world," he says. "And that's still true now.
"I hope that I'll be able to inspire another version of me, somewhere, to have a go and prevent it from dying out. It's a very fragile craft."
Find out more about James and his work here.
For more fascinating features like this, take a look on our Lifestyle pages, or on our Team Blog.