Proper Piri-Piri Chicken Burgers
---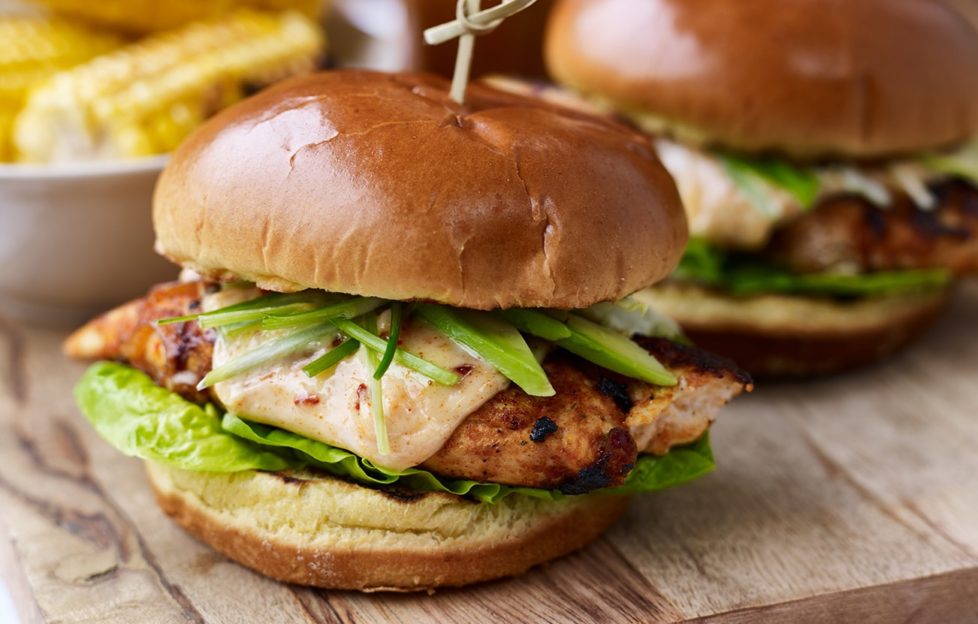 Ingredients
2 chicken breasts, skinless
1 tbs plus 1 tsp piri-piri seasoning mix
1 lime
2 tbs oil
4 spring onions, 2 chopped finely and 2 cut into strips
2 tbs mayonnaise
½ avocado
½ little gem lettuce
2 burger buns
Recipe and image courtesy of Love The Crunch.
We have a bit of a spicy one for your barbecue this week: piri-piri chicken burgers!
If you're the one in the family who chooses chili sauce over brown or red, then you're going to love it.
Method
Cover the chicken breasts with a sheet of cling film and bash the thickest part with a rolling pin. Ideally the breast will be a similar thickness all over so it cooks evenly.
Mix together 1 tablespoon of the piri-piri seasoning mix, the juice of half the lime, the oil and the finely chopped spring onions to make a marinade. Pour this over the chicken and leave to marinate overnight, or for as long as possible.
The chicken can be cooked on the barbecue, in a griddle pan or grilled. Whichever way you do it, cook on a medium heat for 10 to 15 minutes, turning regularly. It should be charred on the outside and juicy but cooked in the middle.
While the chicken is cooking, mix together the remaining piri-piri seasoning and the mayonnaise. Slice the avocado and dress with lime juice and a good pinch of salt. Tear the lettuce leaves and toast the buns.
Lay the lettuce leaves on the bottom half of each bun, lay the cooked chicken breast on top, add a dollop of piri-piri mayonnaise and top with the spring onion strips and slices of avocado before topping with the bun lid.
If this recipe has your mouth watering, you should take a look at our Cookery pages. We have plenty to offer!