Baked Sweet Potatoes With Mackerel And Beetroot
---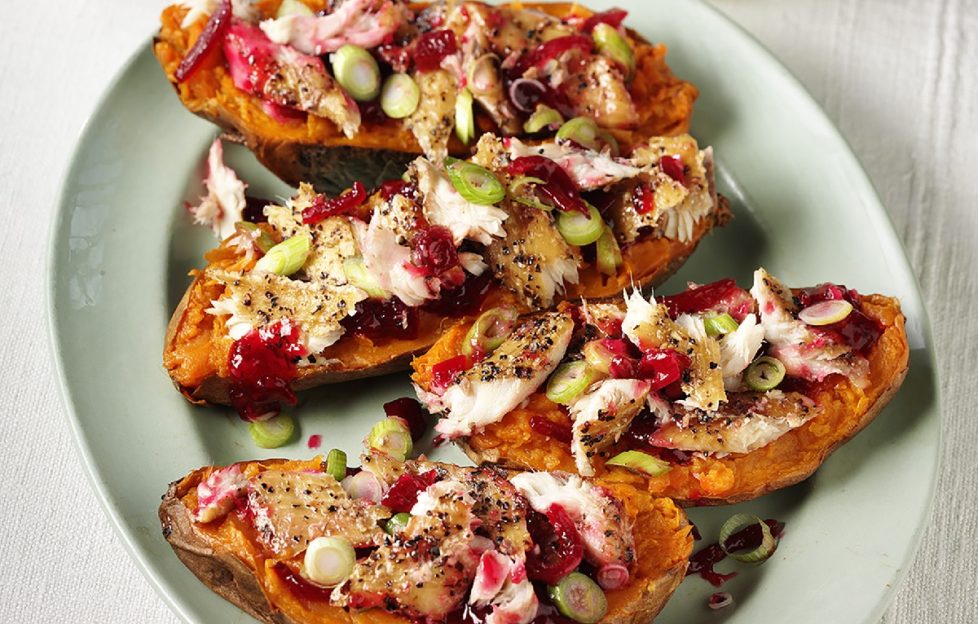 Image by English Provender.
Ingredients
4 large orange-fleshed sweet potatoes, washed
1 tbs olive oil
A pinch of sea salt
300 g (10½ oz) peppered smoked mackerel fillets, skin removed
3 spring onions, sliced finely
½ x 300 g jar English Provender Beetroot Relish with Horseradish & Dill
4 tbs reduced fat crème fraîche
Recipe courtesy of English Provender.
Who doesn't love sweet potatoes?
We certainly do here in the "Friend" office!
So, with Organic September in full swing, we decided to bring you this delicious recipe for baked sweet potatoes with mackerel and beetroot.
Method
Pre-heat the oven to 190 deg. C., 375 deg. F., Gas Mark 5.
Prick the sweet potatoes all over with a fork. Place on a baking tray, then rub each potato with a drizzle of oil and a little salt.
Bake in the pre-heated oven for about 1 hour or until the potatoes are tender.
Meanwhile, break the mackerel fillets into pieces and place in a bowl. Add the spring onions and beetroot relish and stir to mix well.
Cut each potato in half lengthways, then spoon over the mackerel mixture.
Top with a spoonful of crème fraîche and serve immediately.
For more of Cookery Ed Marion's recipes, click here.
If it's sweet potato recipes in particular you're after, click the tag below.
Remember, we feature a whole host of recipes in every issue of our weekly magazine, and in our Specials. Make sure not to miss your next "Friend" fix by subscribing today. 
For a limited time, new subscribers will receive a free bottle of Emma By Laura Ashley perfume