Happy Birthday, André Rieu!
---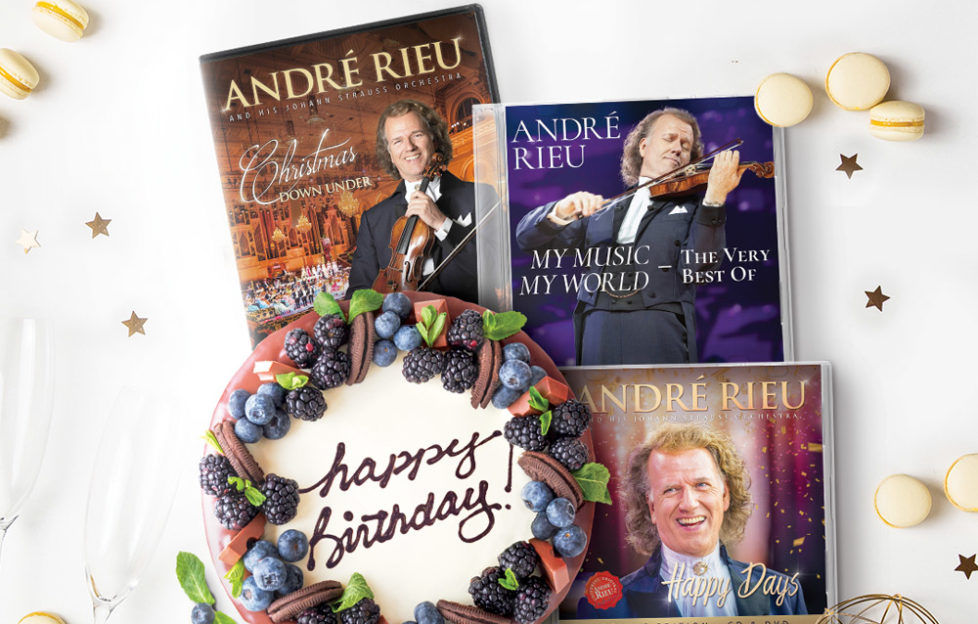 Image by DC Thomson Ltd.
Musical legend André Rieu is 70 years old today, and we couldn't be more excited to celebrate!
From growing up in a musical family and his church choir days, to his marriage to Marjorie; performing with The Salon Orchestra and The Johann Strauss Orchestra; then the breakaway success of "The Second Waltz" and his record-breaking world tours.
It has been an incredible journey for André!
We are huge fans here at "The People's Friend", so we're looking back at just a few highlights from the life of the "King Of The Waltz".
1949
André was born, the third of six children. Before long, at only the age of five, he picked up his very first violin and fell in love with it. This love that would last a lifetime, and shine through at every performance.
1975
André married his "great love", Marjorie, and they went on to have two sons named Marc and Pierre.
Pierre would eventually go on to join the business, André Rieu Productions, working alongside his father.
1987
André founded the Johann Strauss Orchestra, named for one of his heroes.
The orchestra consisted of only 12 musicians in the beginning, but today there can be 50-60 musicians on the stage at some larger concerts.
"When we travel, we really have an incredible amount of fun together," André says. "After all, if you can't live together in joy and harmony, how can you expect to give beautiful concerts?"
1994
André released "From Holland With Love", which became a huge hit.
Song "The Second Waltz" became so famous that the album stayed in the top 10 for over a year!
A year later, André performed this beautiful waltz at an international football match in Germany, and the album shot into the top 5 instantly!
2009
After years of sell-out world tours and annual concerts in his hometown of Maastricht, André visited the UK to perform at the Royal Variety Performance.
He won the hearts of the whole country in the process.
2011
Academy Award-winning actor Sir Anthony Hopkins composed "And The Waltz Goes On", with Rieu specifically in mind to perform it.
"I've been a great admirer of André Rieu for several years," Sir Anthony said. "He's a great musician.
"My wife and I had the same dream of meeting him one day, so I've sent him some music that I wrote. It's a dream come true for me that André performed it with his orchestra.
"I'm totally knocked out by the result. It's even more than I expected!"
2013
André releases "Happy Birthday! 25 years of the Johann Strauss Orchestra" to celebrate the orchestra's silver jubilee.
The DVD revisits some of the highlights from their 25 year career. He called the release a "reunion" of many friends past and present, coming together to celebrate the Johann Strauss Orchestra.
Celebrate this milestone
Happy Days
This album celebrates André Rieu's amazing career.
It's full of fittingly celebratory classics such as "Amigos Para Siempre" (the official anthem of the 1992 Barcelona Olympic Games), "Buglers Holiday", "Those Were The Days", "I Could Have Danced All Night", "With A Little Bit Of Luck" (from "My Fair Lady") and "Eviva Espana" to name just a few.
My Music, My World – The Very Best Of
This album features many of his greatest hits, waltzes, operas, musical and movie themes and the song "Happy Birthday", to celebrate this wonderful occasion.
Christmas Down Under
Are you feeling festive yet?
You can also pre-order the "Christmas Down Under" DVD, which captures the magical concert recorded at Sydney's iconic town hall in 2018.
Interested in seeing André and his orchestra live? Click here to browse the range of concert packages available from DC Thomson Travel.