"A Year In Calligraphy" by Kirsten Burke
---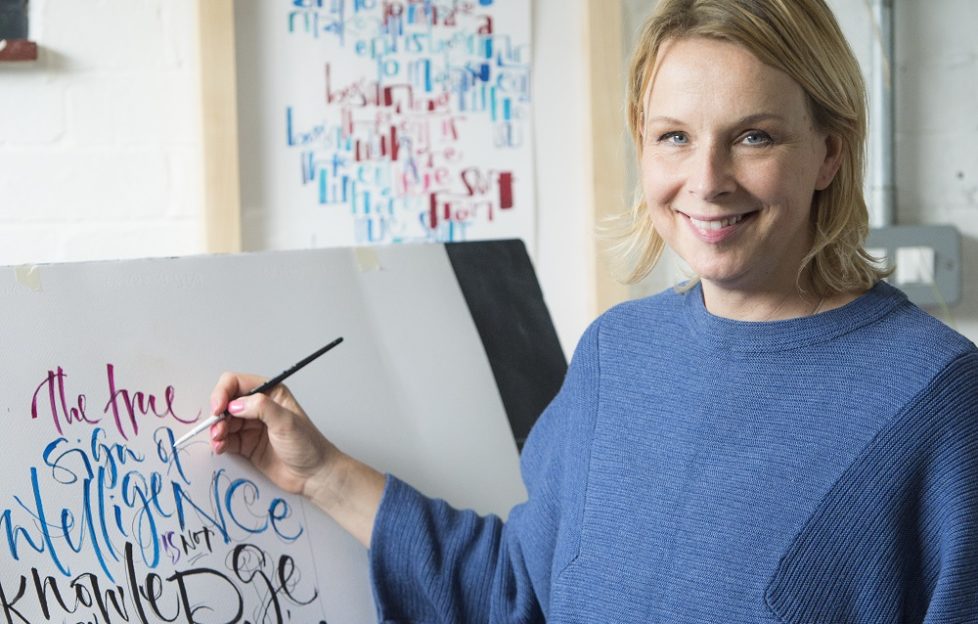 Photograph by Studio Press.
Kirsten Burke is one of the biggest names in calligraphy circles.
She has sold more than 10 million greeting cards, and has produced commissions for Rolls-Royce, the BBC and Shakespeare's Globe Theatre, amongst others.
Her latest book, "A Year In Calligraphy", provides a fun project for every month.
We caught up with Kirsten to speak to her about the book, and to ask her for her top tips for beginners.
Where did the concept for your latest book come from?
"We developed it to help people take the next step in their calligraphy journey.
"'Kirsten Burke's Secrets Of Modern Calligraphy' and 'Kirsten Burke's Secrets Of Brush Calligraphy' taught basic skills, and the 'Little Book Of Calming Calligraphy' and our practice pad were about growing in confidence.
"We wanted to bring calligraphy into people's daily lives, with exciting projects that would tempt them to keep coming back to the book."
The book sees you making artworks out of all kinds of objects. Where do you find inspiration?
"Inspiration is everywhere.
"I take a notebook out with me to jot ideas down.
"Most things can be embellished to make your environment more aesthetically pleasing."
What tips would you give beginners?
"The best way to get started is to try a workshop.
"However, the next best thing is to pick up one of my beginners books and my 'Essential Calligraphy Starter Kit'.
"I have video tutorials on YouTube, too."
"Don't try to get things perfect. Modern calligraphy is about energy and flow, not perfectly matching letters, which is what makes it so appealing.
"For inspiration, follow us on Instagram and YouTube where we post new videos, tips and ideas.
What pen would you recommend for beginners?
"People find choosing tools daunting, so I created my 'Essential Modern Calligraphy Kit'.
"It has a pen holder, black ink and three nibs chosen to accommodate most people, whether light or heavy handed, and right or left handed.
"I will say ninty-nine per cent of my students find the Leonardt 30 nib easiest to get to grips with!
"Brush pens are fantastic for practice on the go.
"You don't need any other kit – no nibs, ink or water.
Kirsten Burke's "A Year In Calligraphy" is £16.99 and is published by Studio Press.
For more of our creative craft content, click here.