Trawling For A Recipe? Try This Fantastic Fish Pie!
---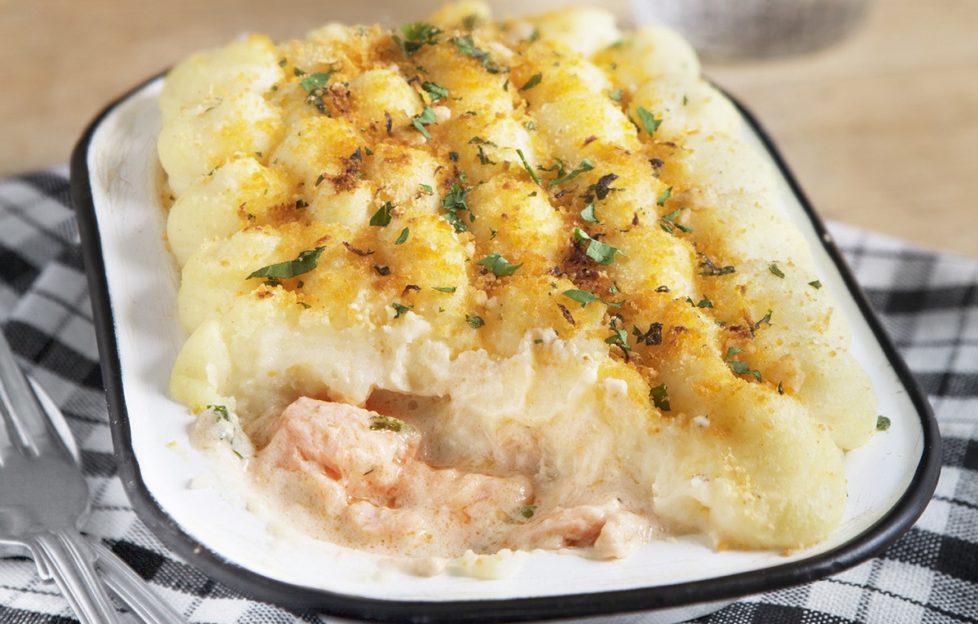 Image courtesy of Castle MacLellan.
Ingredients
375 g (13 oz) potatoes
30 g (1 oz) salted butter
Salt and freshly ground black pepper, to taste
Splash of milk, optional
1 tub Castle MacLellan Salmon Pâté
100 ml (3½ oz) double cream
125 g (4½ oz) smoked white fish
125 g (4½ oz) salmon steaks
10 g (¼ oz) melted butter
For the Breadcrumb Topping:
1 tsp lemon zest
15 g (½ oz) breadcrumbs, white or brown
1 tsp crushed garlic
1 handful parsley leaves, chopped
1 tsp olive oil
15 g (½ oz) Parmesan, grated
Recipe courtesy of Castle Maclellan.
Pastry week on "The Great British Bake Off" seems like a good time to break out this wonderful Fish Pie recipe.
Method:
Pre-heat oven to 200 deg. C., 400 deg. F., Gas Mark 6.
Peel and dice the potatoes and boil in salted water for about 25 minutes, until soft.
Drain, then add the butter and a little milk, if needed. Mash and season to taste.
Put the pâté in a saucepan with the cream. Stir to make a sauce while heating gently.
Break up the fish, removing any skin, and put into the pâté to cook for about 7 minutes.
Spoon the fish mix into the bottom of single pie dishes; you want them about two-thirds full with the fish. Allow this to cool.
Top the fish mix with a layer of mashed potato. Brush the tops of the mashed potato with melted butter.
To make the breadcrumb topping, add all the ingredients to a blender and mix for 5 seconds.
Sprinkle a tablespoon of the crumb mix over the pies and put in the oven for 20 minutes until the top has turned golden brown.
Has this Fish Pie left you feeling hungry? Click here to visit our Cookery pages.
And remember, every issue of our magazine is packed with tasty recipes. Click here to subscribe today, and you'll receive a FREE Scottish Afternoon Tea Gift Selection.
Offer valid until November 14, 2o19.