Lamb Stew With Butternut Squash And Chestnuts
---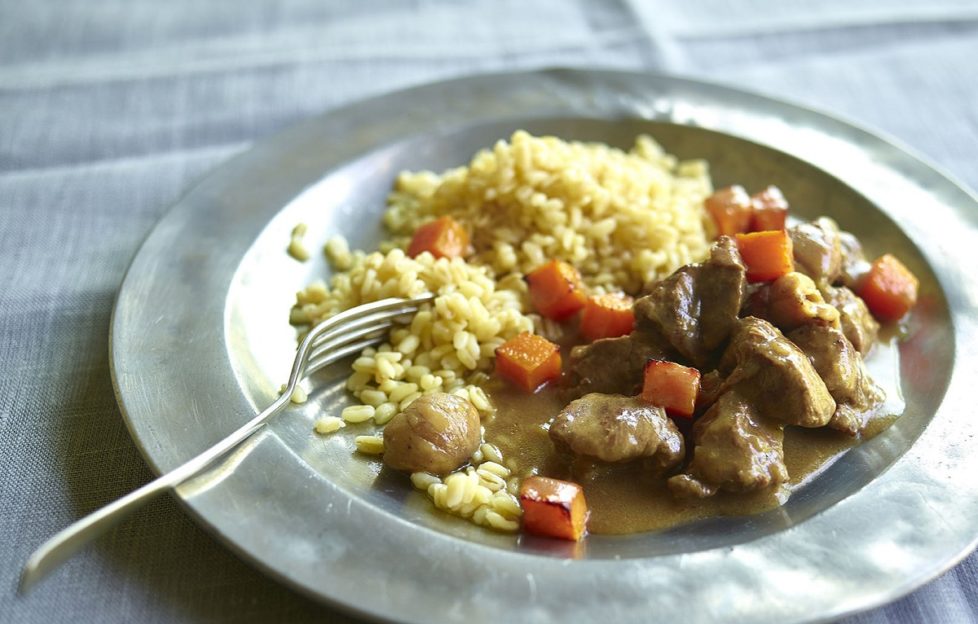 Image courtesy of Tasty Easy Lamb.
Ingredients
2 tbs rapeseed or olive oil
1 kg (2 lb 4 oz) lamb shoulder, leg or neck fillet, cut into 2.5 cm (1 in) cubes
3 shallots or 1 small onion, chopped finely
2.5 cm (1 cm) piece of fresh ginger, peeled and chopped finely, optional
1 level tsp ground nutmeg
1 cinnamon stick
3 whole cloves
2 level tbs flour
500 ml (18 fl oz) hot lamb stock
2 tbs runny honey
250 g (9 oz) butternut squash, peeled and cubed
250 g (9 oz) unsweetened cooked chestnuts
Salt and freshly ground black pepper, to taste
To Serve: steamed bulgur wheat; couscous or mashed potatoes.
Recipe courtesy of Tasty Easy Lamb.
Did you know that eating lamb can help boost muscle maintenance?
This doesn't mean it's just for body builders and athletes. It can also be really beneficial for people looking to get out and about as part of a healthy lifestyle, and those recovering from surgery.
This Lamb Stew With Butternut Squash And Chestnuts is a great place to start if you're looking to add an alternative red meat to your diet.
Method:
Heat the oil in a large saucepan, season the lamb and brown for 3 to 4 minutes until brown all over. Remove from the pan and set aside.
In the same pan reduce the heat and soften the shallot or onion and ginger, if used, for 2 to 3 minutes over a low heat.
Add the spices and stir for 1 minute. Sprinkle over the flour and stir for another minute.
Pour in three-quarters of the stock, stirring continuously, then add the meat. Add the remaining stock and honey. Reduce the heat and simmer for 1 hour.
Add the butternut squash to the pan and cook for 20 minutes.
Finally add the chestnuts and cook for a last 10 minutes.
Adjust the seasoning and serve hot, with steamed bulgur wheat, couscous or mash.
For more lamb recipes, click the tag below.
To explore more delicious recipes from "The People's Friend", click here.