Just In Time For Halloween: Cheeky Chocolate Bats
---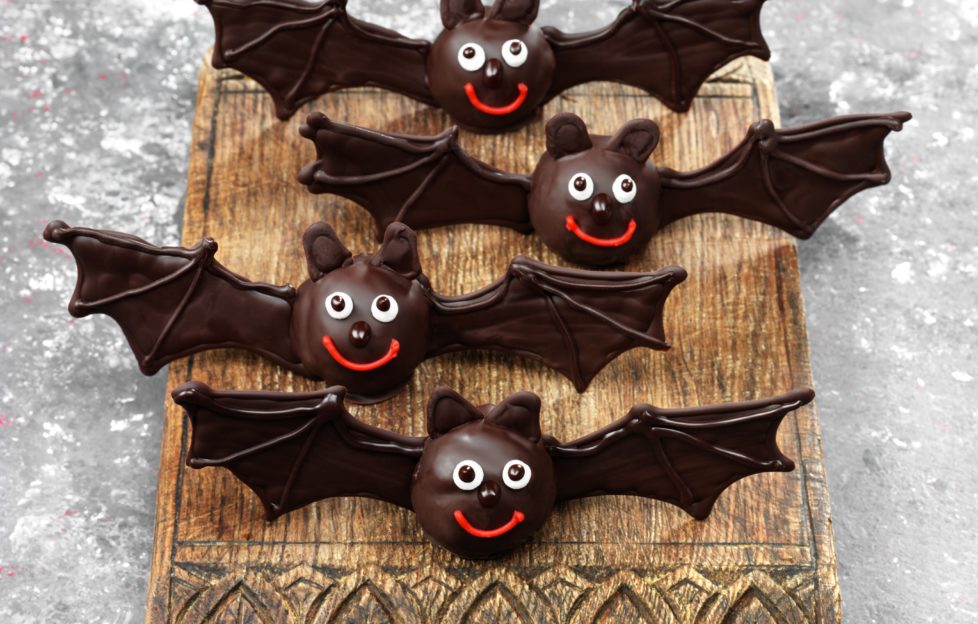 Photograph courtesy of Dr Oetker.
Ingredients
125 g (4½ oz) cake crumbs
1 x 25 g sachet Dr. Oetker Fine Dark Cocoa Powder
40 g (1½ oz) icing sugar
50 g (2 oz) unsalted butter, melted
1 tsp Dr. Oetker American Peppermint Extract
225 g (8 oz) Dr. Oetker Fine Cooks' 72% Extra Dark Chocolate
To Decorate: Dr. Oetker White Designer Icing; Dr. Oetker Bright Writing Icing (Red)
Recipe courtesy of Dr. Oetker.
Halloween is here again!
If you're like us, you'll be determined to have some (spooky) fun in the kitchen.
That's where these cheeky chocolate bats come in!
Method
The body:
Line a plate and a large board with baking parchment.
Put the cake crumbs in a mixing bowl. Sift the Cocoa Powder and icing sugar on top. Mix in the melted butter and Peppermint Extract until well combined.
Using a cake pop baller or your hands, form the mixture into 9 x 4 cm (1¾ in) diameter balls and put on the lined plate. Cover and chill for 30 minutes until firm.
The wings:
Meanwhile, make the bat wings. Break 150 g (5½ oz) of the chocolate into pieces and put into a heatproof bowl. Place over a saucepan of barely simmering water to melt.
Remove from the water and leave to cool for 10 minutes.
Using a bat-shaped cookie cutter or template, trace 9 sets of wings spaced a little apart on sheets of baking parchment. Each wing needs to be about 7 cm (2¾ in) by 4 cm (1¾ inch). Put the parchment, trace side down, on a large board.
Spoon about one third of the melted chocolate into a small piping bag without a nozzle. Snip a little of the bag away at the end and begin piping round each wing shape to give an outline in melted chocolate. Leave for a few minutes to set before going back and filling in the centres with more melted chocolate to make them solid. Leave in a cool place to set.
Once the wings have set, pipe on the wing detail and leave aside until ready to assemble.
The ears:
Place a small sheet of baking parchment on another board and pipe the outline of 9 pairs of ears. Once set, fill in the centre with melted chocolate. Leave in a cool place to set.
To decorate:
Break up the remaining chocolate into pieces and place in a small heatproof bowl.
Melt as above, then mix with the melted chocolate left over from making the wings and ears — you may need to re-melt this.
Working on one cake ball at a time, drop it into the chocolate and gently turn it over using a fork to coat completely.
Carefully lift out the ball on the prongs of the fork and gently tap the fork several times on the side of the bowl to remove excess chocolate and give a smooth finish.
Put the ball on the lined board. Whilst the chocolate ball is still wet, carefully peel off a pair of wings and ears and gently press into the sides and top of the chocolate cake ball — to avoid getting fingerprints on the chocolate, you may prefer to wear thin latex gloves for this.
Repeat this process to cover and decorate the remaining cake balls, then put the chocolate bats in a cool place to set. Keep any remaining melted chocolate for the final decoration.
Once the bats are set, pipe on the whites of the eyes using Designer Icing and a big smiley Halloween mouth using red Writing Icing.
Re-melt the leftover chocolate as necessary, and either pipe or brush on small amounts for eyeballs and noses. Leave for a few minutes to set and then the bats are ready to serve and enjoy!
These tasty treats will go down a storm at your next Halloween party!
For more delicious recipes from "The People's Friend", click here.