Hearty Leek And Lamb Cobbler
---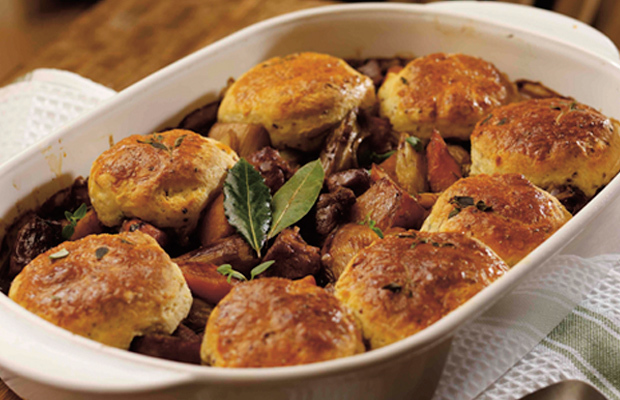 Image courtesy of Recipe courtesy of www.britishleeks.co.uk.
2 tbs plain flour
Salt and freshly ground black pepper, to taste
450 g (1 lb) stewing lamb such as shoulder, cubed (or use pork shoulder or braising beef)
2 tbs vegetable or sunflower oil
150 ml (¼ pt) brown ale
4 medium leeks, trimmed then cut into thumb lengths
1 stick celery, sliced
3 medium carrots, peeled and cut into big chunks
400 g (14 oz) swede or turnip, peeled and cut into big chunks
Few sprigs fresh thyme, or 1 tsp dried
1 or 2 bay leaves, fresh or dried is fine
500 ml (18 fl oz) lamb or beef stock
Recipe courtesy of www.britishleeks.co.uk.
For the cobbler topping
½ tsp salt
250 g (9 oz) self-raising flour, plus extra for dusting
80 g (3 oz) cold butter, cut into cubes
125 ml (4 fl oz) semi skimmed milk
2 tsp wholegrain mustard
1 tbs fresh thyme leaves, or 1 tsp dried
1 egg, beaten
To Serve: seasonal greens.
Recipe courtesy of www.britishleeks.co.uk.
When is the best time of year to tuck in to a hearty lamb and leek cobbler?
Well, looking out of the window to grey skies and frost on the ground, we're thinking now!
And it's simple, too!
Method:
Heat the oven to 160 deg. C., 325 deg. F., Gas Mark 3.
Season the flour with salt and pepper and toss the lamb in the seasoned flour until coated.
Heat 1 tablespoon of the oil in a flameproof casserole, then add the meat and fry for 10 minutes, until dark golden brown all over.
Transfer to a bowl. Add the ale to the casserole and bring to the boil, scraping up all of the tasty brown bits from the bottom. Tip this over the meat then wipe the pan with kitchen paper.
Heat the rest of the oil in the casserole then gently fry the vegetables with the thyme and bay for 10 to 15 minutes until turning golden here and there.
Return the lamb and juices to the casserole, top up with the stock, then season. Cover with a lid, leaving just a small gap to one side, then cook in the oven for 2 hours.
With 40 minutes to go, make the topping. Add the salt to the flour in a large bowl. Rub in the butter with your fingertips until the mix looks like fine crumbs. Combine the milk, mustard, thyme and half of the egg, then tip into the bowl and bring to a soft dough. Knead a few times on a floured surface till just smooth, then pat the dough to about 3 cm (1 in) thick and stamp into rounds. Squash together any trimmings and repeat. Dont overwork the dough as it will make it tough.
Uncover the meat, stir gently and check the sauce for seasoning, adding more to taste, if needed.
Place the cobbler pieces on top, brush them with the remaining egg, then return to the oven until the topping is golden and lamb tender.
Let the cobbler settle for 10 minutes before serving with your favourite seasonal greens.
For more of Cookery Ed Marion's recipes, click here.
If it's sweet potato recipes in particular you're after, click the tag below.
Remember, we feature a whole host of recipes in every issue of our weekly magazine, and in our Specials. Make sure not to miss your next "Friend" fix by subscribing today. 
New subscribers will receive a free 150th Anniversary tea caddy.