A Great Gingerbread Cheesecake
---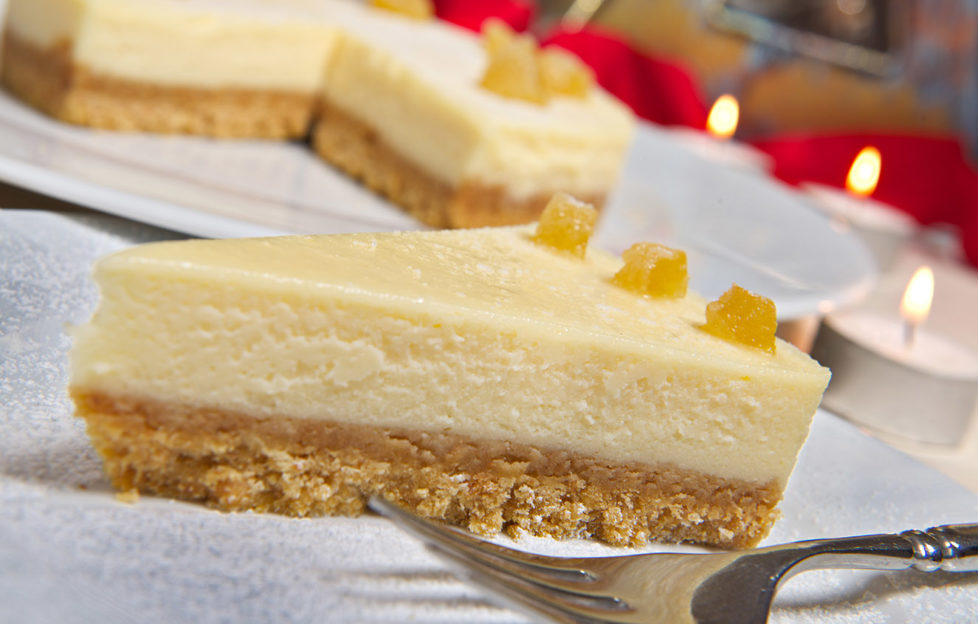 Image courtesy of Delamere Dairy.
Ingredients
175 ml (¼ pt) double cream, at room temperature
600 g (1 lb 5 oz) Delamere Dairy spreadable goats' cheese
1 egg yolk and 2 whole eggs, room temperature
1 tbs plain flour
200 g (7 oz) caster sugar
½ tsp ginger
Seeds from 1 vanilla pod
For the Biscuit Base:
260 g (9 oz) gingernut biscuits
1 tbs caster sugar
85 g (3 oz) Delamere Dairy goats' butter, melted
Recipe courtesy of Delamere Dairy.
If you haven't picked your dessert for Christmas Day quite yet, we have a suggestion for you: Gingerbread Cheesecake.
It's not quite the traditional trifle or Christmas pudding, but it's guaranteed to help spread some festive smiles!
Method:
Pre-heat the oven to 200 deg. C., 400 deg. F., Gas Mark 6.
To make the biscuit base, crush the biscuits, then add the sugar and melted butter and mix well.
Press the crumb mixture into the base of a 20 cm (8 in) spring-form cake tin, flattening with the base of a glass.
Cook in the pre-heated oven for no more than 5 minutes, then set aside to cool. Turn the oven down to 170 deg. C., 325 deg. F., Gas Mark 3.
While the base is cooling, make the filling. In a bowl, whip the cream to soft peaks.
In a separate bowl, beat the cheese and eggs together then beat in the cream. Next, beat in the flour, sugar, ginger and vanilla seeds.
Add the mixture to the cooled biscuit base then bake in the oven for 45 minutes to 1 hour until firm but slightly wobbly if shaken.
Turn off the oven, leave the door ajar and leave the cake to cool for another 45 minutes to 1 hour – it may crack a little but if you had everything at room temperature when you started, that's much less likely.
Cool on a rack and, when cold, run a knife around the edge. Wrap with cling film and store in the fridge to set for 4 hours or overnight.
Decorate your Gingerbread Cheesecake as desired.
For more great recipes from the "Friend", click here.
Have you looked at our fantastic "150 Years Of Christmas Cookery" book? There's some great recipes in there — and some quite quirky ones, too!