Leftovers: Ham, Brie And Onion Chutney Toasties
---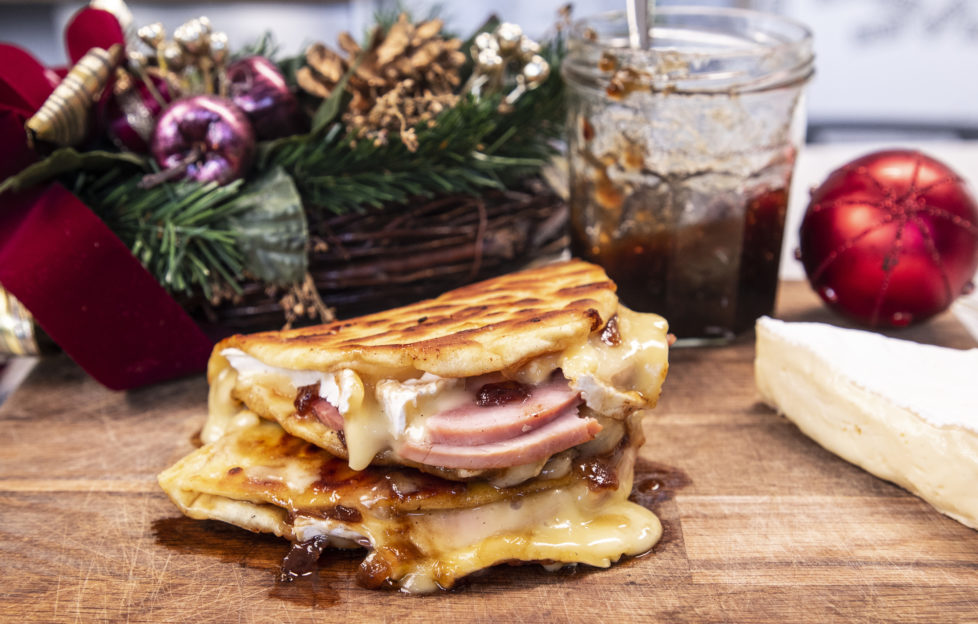 Image courtesy of Deli Kitchen and MOB Kitchen.
Nothing says Christmas quite like leftovers . . .
We're often tempted to over-indulge around the festive season, and that can mean plenty of food left over after a big meal.
But don't throw it away just yet!
You can do all sorts of delicious and inventive things with your leftovers — starting with these Ham, Brie and Caramelised Onion Toasties!
Method:
Open up the Deli Kitchen Brioche Folded Flatbreads and spread 1 tablespoon of caramelised onion chutney over each flatbread. (If your chutney is firm, add a small splash of hot water to the jar and mix it in to loosen.)

Add three slices of brie to one side, top with a slice or two of ham and then another layer of brie.

Fold the flatbread over and repeat with the other three.

Heat the frying-pan to a medium heat and add a knob of butter. Once melted, add your flatbreads. Cook for 2 to 3 minutes on each side, until nice and golden and the brie is gooey and melting.

Remove the flatbreads from the heat, serve on a board and tuck in.
Simple, tasty and an effective way to help empty the fridge!
For more recipes from the "Friend", click here to browse our Cookery pages.