New Year Celebrations Around The World
---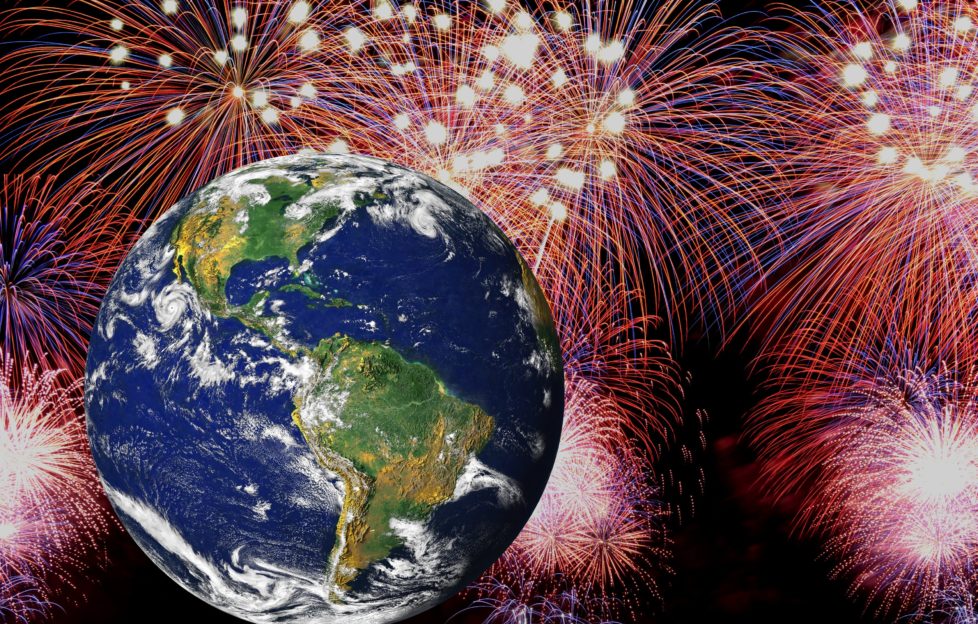 Shutterstock.
How are you planning to celebrate New Year?
Every December 31, people all over the world get together to mark the occasion in fascinating and creative ways.
Here, we take a closer look at some of our favourites.
As well as celebrating with parties and fireworks like many of us around the world, Romanians have lots of customs surrounding this important time of year.
Young children, for instance, go from door-to-door reciting traditional songs to bring health and wealth to those houses they visit. It's also traditional to toss coins into water in the belief that it will bring good fortune and wealth to last throughout the year.
There's one custom that gives a new meaning to the expression "bucketing down".
In this part of the world, it's traditional to throw water out of windows to wash away evil spirits.
Sugar sprinkled on the doorstep is another custom to keep evil spirits away from the door. Cleaning your home is another sure-fire method of bringing good luck.
Here, lentils symbolise wealth and prosperity, so expect to see them on the menu for an extra serving of good fortune in the coming year. You also need to be dressed appropriately, as the wearing of red underwear is said to scare off evil spirits.
The Italians also like to give small gifts such as sweets, coins and lamps. They also aim to party until sunrise, so they can see the New Year arrive.
Much like our Queen's Speech on Christmas Day, the Danish monarch heralds the New Year with a televised address to the nation.
Many Danes follow the custom of breaking dishes against the doors of friends and family in the belief it will bring good luck. Perhaps this is a tradition worth adopting . . . it certainly stops arguments over who is doing the washing-up!
Another custom is to jump off a chair to signify leaping into the New Year.
In this part of the world, people work hard to construct effigies of notable figures, celebrities, or even cartoon figures. They then burn their work when midnight strikes, symbolically ridding themselves of bad luck and negative energy.
We all know how much the French enjoy their cuisine!
Their New Year celebrations include the eating of traditional dishes such as pancakes, turkey and foie gras.
Parties with family and friends are common, as is the giving of gifts — whether it be a card or cake (a bit like first-foot gifts in Scotland).
On the stroke of midnight it's common to kiss under le gui (mistletoe).
Although it's a time for family and friends to get together in small gatherings, those who aren't shy of a crowd can join thousands upon thousands of others at the foot of Table Mountain.
The annual Cape Town Minstrel Carnival offers a burst of colour and unforgettable sights and sounds, which all add up to a truly memorable time.
Here they actually have two celebrations.
The "New" New Year is celebrated on December 31/January 1 with the usual parties and fireworks, with the largest gathering in Red Square. This date was recognised as the New Year after Russia switched from the Julian to Gregorian calendar.
The Russians then have a second celebration on January 14 to mark the "Old" New Year. Traditional food includes the very popular Olivier salad.
Although Thai people celebrate New Year's Day with the rest of us on January 1 and it's a public holiday, the traditional Thai New Year is actually on April 13.
Some people like to visit temples and give offerings of food to Buddhist monks at this time. It's also common for people to return to their home towns to meet with their elders.
The Spanish like to try to stuff 12 grapes into their mouth to signify each of the coming months — a tradition mimicked in many other parts of the world.
You can make a wish as you eat each one, but you must be finished within the first minute of the New Year. Due to the potential choking hazard, it's certainly not something we recommend trying at home!
Grab a suitcase if you happen to be in Colombia this New Year. The case is said to herald travel and adventure in the coming months.
Yellow underwear is said to bring luck, but to be extra sure of good fortune, sit down to a meal of lentils and rice.
The legumes are thought to bring luck and prosperity and some people carry lentils in their pocket.
For more from the team, read our blog here.