Writer Of The Day: David Hawkins
---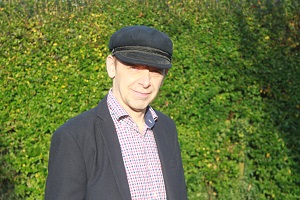 Photograph courtesy of David Hawkins.
Our Writer Of The Day is David Hawkins. His story, "Twelve Red Carnations", is published in our January 11 issue.
David, like all the writers in that issue, is brand new to the "Friend"! 
Tell us where the idea for "Twelve Red Carnations" came from?
I believe in love, and "Twelve Red Carnations" is a story of pure love.
Often the world gets in the way, and war is one of those times.
I believe that most of us have hearts full of love. I have to believe that, because if I am wrong, the world wouldn't be as nice a place.
The story is sad, but it is full of innocent people in an emotional situation doing what is right.
How long have you been writing fiction?
Since I was at school.
I have always loved writing, and do it all the time. I have probably written a million words in my life!
Most of it is complete garbage, but I think I am getting better at it — so I was really pleased when "The People's Friend" accepted this story.
You have such a wide readership and it is an honour to think it will be read by many thousands of people.
Who are your favourite authors?
I love Graham Greene and Anne Tyler.
Thomas Hardy as well — writers who can write deep characters that I can sympathise with; who struggle with the situations in their lives and try to do good and try to stay human.
Plus, I love to play around with words in my writing — the "art" of writing, as well as the craft of it — and all three of those writers use language beautifully.
Another writer that I have got into recently is Khalid Hosseini, who writes poetically about human love in the face of tragedy.
What are your writing ambitions?
I would love to write a serial for "The People's Friend"!
The idea of writing a longer piece that would be read by loads of people, who would wait in anticipation for the next episode of the story, really appeals to me.
It was how great writers like Thomas Hardy and Charles Dickens did it, so I would be following in some very impressive footsteps.
Notebook and pencil or laptop? Kitchen table or study? Blank wall or inspiring view?
Desktop computer that is not connected to the internet (I'd spend all my time checking my emails and not doing any work).
I write in my study, looking at a noticeboard full of my ideas for stories. Because I have many projects on the go all at once, I have to keep track of each one.
I do jot things down in my many notebooks — phrases, paragraphs and story ideas — and then forget all about them for months, before flicking through them again and thinking "Oh yeah! That's a good idea, I should work with that".
And also a P.S. — what's your top tip for our next aspiring Writer Of The Day?
Write a lot, and write in genres that you aren't comfortable with.
Push the boundaries.
I tried to write horror for a bit, although I am not a big fan of it. My horror stories weren't great, but I learned a lot about what to do and what not to do.
So my advice is to write stories that you wouldn't normally write, because it will improve your writing.
Also, when reading, read like a writer and not a reader.
Ask why a writer chooses that word. Why does that character do that? Why have that background?
Then use those ideas (changed slightly) in your own writing.
Keep an eye on the Writer Of The Day tag below to meet more of our newest contributors.
Click here to sign up for our new Fiction newsletter, and you could be in with a chance to win a signed book by Annie Murray or Glenda Young!