Slow-cooked Turkey With Spiced Chickpeas
---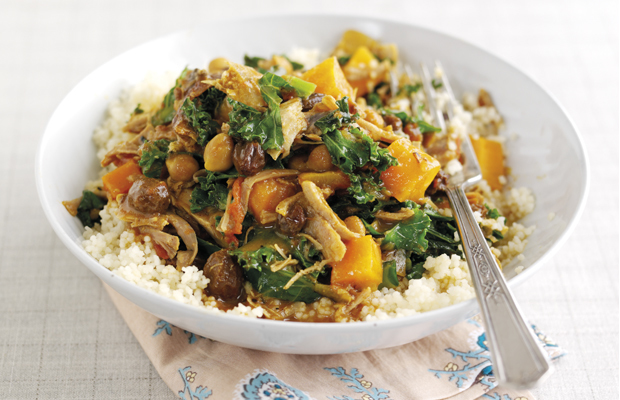 Image courtesy of Fantastic Food For Less.
Recipe courtesy of Fantastic Food For Less
1 turkey drumstick, about 700 g (1 lb 10 oz) in total
1 tbs sunflower oil
1 onion, peeled and chopped
2 cloves garlic, peeled and chopped finely
4 cm (1½ in) piece root ginger, peeled and chopped finely
1 tsp ground cumin
1 tsp ground turmeric
1 tsp ground mixed spice
½-1 tsp dried crushed chillies
1 x 400 g can chopped tomatoes
1 x 410 g can chickpeas, drained
600 ml (1 pt) chicken stock
50 g (2 oz) raisins or sultanas
Freshly ground black pepper
350 g (12 oz) carrots, diced
110g (4oz) curly kale, sliced
To Serve: cooked rice or couscous (optional).
Recipe courtesy of Fantastic Food For Less
First of all, don't worry if you don't have a slow cooker.
We've made sure you won't need one for this wonderful meal!
They are all the rage these days, and really do take some of the stress out of preparing meals after a hard day's work. But you can do just fine with a saucepan . . .
Don't believe us? Take a look at this delicious recipe for Slow-cooked Turkey With Spiced Chickpeas.
Method:
Partially sever the knuckle end of the turkey drumstick by using a large knife and hitting it with a rolling pin or hammer. This way the knuckle can be bent round and will fit in a large saucepan.

Put it in the pan with the oil and fry for about 5 minutes, turning until browned. When the drumstick has begun to colour, add the onion and cook for a further 5 minutes.

Add the garlic, ginger, ground spices and chillies and cook for 1 minute more, then mix in the tomatoes, chickpeas, stock and dried fruit.

Season with pepper and bring to the boil, stirring the sauce to mix.

Reduce the heat, cover and simmer for 2 hours or until the turkey is almost falling off the bone.

Lift the drumstick out of the pan and put on to a plate. Add the carrots to the pan and cook uncovered for 15 minutes until just tender.

Meanwhile, remove the skin, tendons and bone from the turkey, then cut the meat into pieces and return to the pan.

Add the kale and cook for a few minutes until just wilted.

Spoon the stew into warmed shallow bowls lined with couscous or rice, if using.
And there you have it! A slow-cooked meal without the aid of a slow cooker!
For more recipe ideas from "The People's Friend", click here.