Baked Peppers With Rice, Chicken & Walnuts
---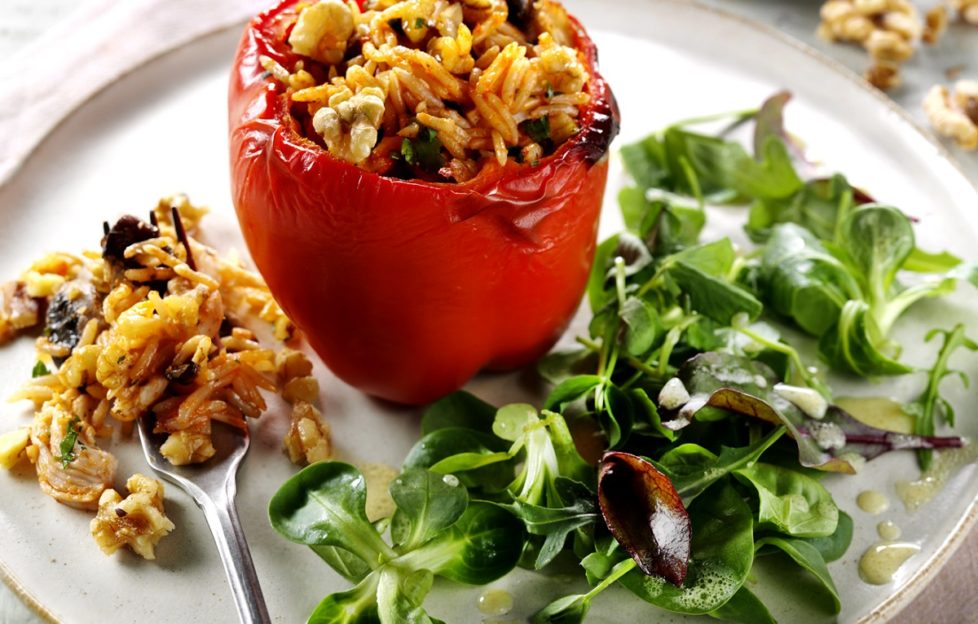 Image courtesy of California Walnuts.
Ingredients
1 tbs olive oil
150 g (5½ oz) chestnut mushrooms, sliced
1 x 250 g pouch sun dried tomato basmati rice
50 g (1¾ oz) California Walnut pieces, chopped roughly
200 g (7 oz) roast chicken, shredded
½ x 25 g pack parsley, chopped
4 red peppers
Recipe courtesy of California Walnuts.
Walnuts have a whole host of health benefits, making them a great addition to any mealtime.
For example, they are rich in antioxidants, promote a healthy gut, support good brain function, and may even help control your appetite.
Considering they are also widely available and easy to add to the diet, we can't avoid talking about them any longer!
Why not try this recipe for Baked Peppers With Rice, Chicken And California Walnuts?
You won't be disappointed!
Method:
Preheat the oven to 200 deg. C., 400 deg. F., Gas Mark 6.

Heat the oil in a frying-pan and fry the mushrooms for 3 to 4 minutes.

Add the rice, California Walnuts and chicken and fry for 2 to 3 minutes until heated through.

Season to taste and stir in the parsley and 2 to 3 tablespoons of water.

Cut the tops off the peppers and remove seeds.

Trim the bases if needed so they stand upright and place them in a small roasting tin with 3 tablespoons of water in the base.

Spoon rice mixture into the pepper shells and bake for 30 minutes or until the peppers are just softened.

Serve with a fresh leafy salad.
For more delicious recipes from "The People's Friend", click here.