National Pizza Day: Cavolo Nero Pizza
---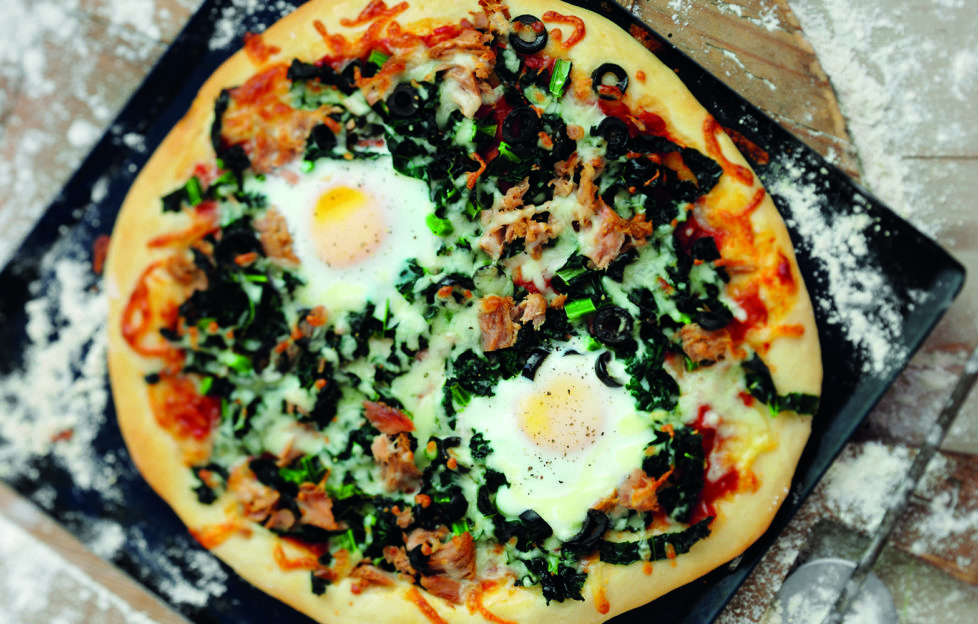 Image courtesy of Discover Great Veg.
Ingredients
500 g (1 lb 2 oz) ciabatta bread mix
1 x 400 g can chopped tomatoes
200 g (7 oz) shredded cavolo nero
A little oil, for greasing
1 x 200 g can tuna in spring water
50 g (1¾ oz) pitted black olives, sliced
4 medium eggs
200 g (7 oz) grated mozzarella cheese
Recipe courtesy of Discover Great Veg.
Today is National Pizza Day!
We couldn't leave our readers without a new recipe to try, so we're bringing you this delicious, if a little unconventional, pizza recipe!
Bring out your inner Papa John below.
Method:
In a bowl, mix the bread mix with 260 ml (9¼ fl oz) warm water and knead for 5 to 10 minutes until smooth and elastic. Place in a clean bowl, cover and leave in a warm place for 30 minutes.

Meanwhile, cook the tomatoes for 5 minutes until thickened, then cool.

Steam the cavolo nero for 5 minutes, then cool.

While the dough is proving, grease 2 large baking trays. Then, when ready, knock back the dough and roll into 2 x 30 cm (12 in) circles. Place on the prepared baking trays and set aside for 15 minutes.

Meanwhile, pre-heat the oven to 200 deg. C., 400 deg. F., Gas Mark 6.

Spread the pizza bases with the tomato mixture. Top with the cavolo nero, tuna and olives. Crack 2 eggs on to each pizza and sprinkle with cheese.

Bake in the oven for 20 to 25 minutes, until golden. Swap the trays over halfway through baking to ensure even cooking.
Bellissimo!
For more great recipes from "The People's Friend", click here.
For more information on National Pizza Day, click here.