Enjoy A Special Shepherd's Pie
---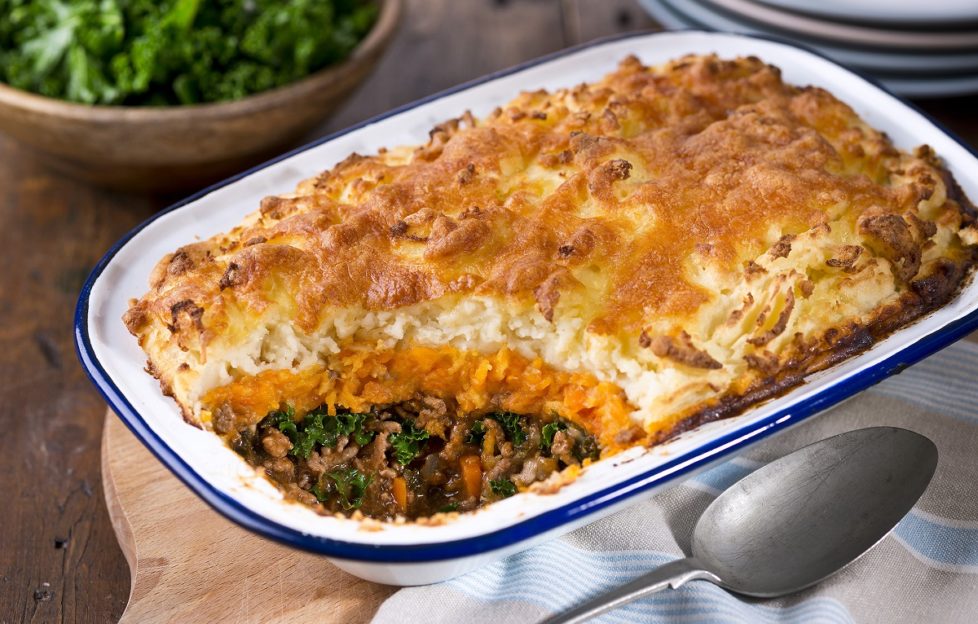 Photograph courtesy of Mash Direct.
Ingredients
1 tbs olive oil
1 large onion, diced
4 cloves garlic, chopped finely
2 tbs plain flour
2 sprigs thyme, chopped finely
500 g (1 lb 2 oz) beef or lamb mince
1 x 400 g tin chopped tomatoes
300 ml (½ pt) beef or lamb stock
2 tbs Worcestershire sauce
Salt and freshly ground black pepper, to taste
1 x 280 g pack Mash Direct Curly Kale
2 x 400 g pack Mash Direct Carrot and Parsnip Mash
2 x 400 g pack Mash Direct Cheese and Onion Mash
100 g (3½ oz) grated mature Cheddar (optional)
Recipe courtesy of Mash Direct.
Shepherd's Pie is a staple of the British diet; a familiar sight in kitchens up and down the country.
Everyone (and their mum!) has their own recipe for this classic dish, but this is one of our favourites.
Try it out today!
Method:
Pre-heat oven to 200 deg. C., 400 deg. F., Gas Mark 6.

Heat the olive oil in a large frying-pan over a medium heat. Add in the diced onion and cook for 5 minutes until softened. Then add the chopped garlic, flour, thyme and minced beef or lamb and fry the mince until it is browned, stirring frequently.

Pour over the tin of chopped tomatoes and add the beef or lamb stock, Worcestershire sauce, a pinch of salt and pepper and stir well. Bring to the boil and then lower the heat and allow the ingredients to simmer for 15 minutes, stirring regularly.

While this is simmering, cook your Mash Direct products in the microwave or oven as per label instructions.

Pour the meat into a deep ovenproof dish – remember you want it deep enough to have layers, at least 6 cm (2.5 in) depth. Mix in the Mash Direct Curly Kale, then spread a layer of Mash Direct Carrot and Parsnip Mash over the top of the meat mixture, making sure you spread evenly. Next, add on the topping of Mash Direct Cheese and Onion Mash, again making sure you distribute evenly and smooth the top.

Sprinkle over the Cheddar, if using, and then place in the centre of the pre-heated oven and leave to bake for 15 to 20 minutes or until the top is golden brown.

Remove from oven and serve.
And there you have it: a delicious Shepherd's Pie fit for all the family.
For more recipes from "The People's Friend", click here.