World Radio Day: Two Lochs Radio
---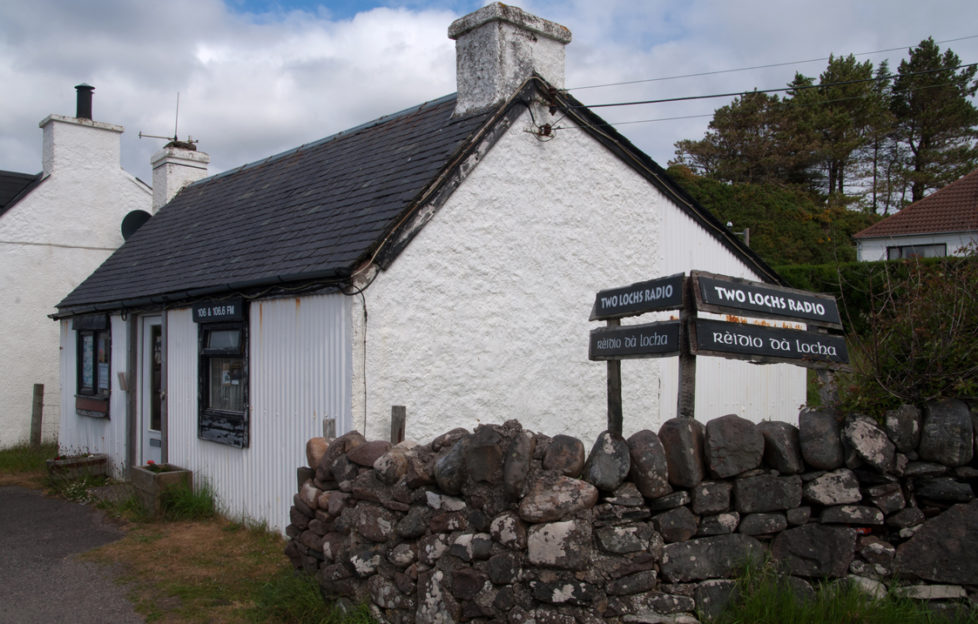 Photograph by Willie Shand.
February 13 is World Radio Day, a day encouraging us to recognise and celebrate the world's most widely consumed artistic medium.
To mark the occasion, we're taking a look back at the time "Friend" travel writer Willie Shand visited the UK's smallest commercial station, Two Lochs Radio in Wester Ross.
---
I never need much of an excuse to point the car in the direction of Wester Ross. Its mountain and coastal scenery are second to none.
So, when the Features Editor suggested I head for Gairloch to visit Two Lochs Radio, I didn't need to be asked twice.
Even in the height of summer, Gairloch never looks that busy — possibly because the village is spread out so much.
Indeed, it's really more than one settlement. It's only in the past century or so that they've collectively become known as Gairloch.
The first part we reach is Charleston, while a mile or so further on is the separate village of Strath.
Strath has its own sand and pebble beach. Looking over it, midway along the front, is a wee cottage with corrugated iron walls and slated roof.
It was here on a Monday morning that I'd arranged to meet Alex Gray, the Two Lochs Radio station manager.
"If you arrive before nine," he advised, "just look in the window and if the red light's off, come on in."
Despite its unassuming exterior, each and every day programmes reach out through its transmitters to touch virtually the whole of Wester Ross.
In fact, through the internet, the whole world can tune in. It has followers in America and even Russia.
Volunteers
When I arrive, Alex's wife Anne is just finishing the "Craic At Dawn" — a programme filled with music and local what's-on, weather and news.
Anne sits with headphones on in front of a computer screen and a great array of buttons that wouldn't look out of place in the cockpit of a jumbo jet.
While a track is being broadcast the red light goes off for a couple of minutes and we can speak.
Anne admits to being a morning person, and says she is quite happy to do the early shows. Alex, who worked with the BBC for 20 years, is pretty much involved seven days a week.
Besides them, the station is totally run by volunteers. In fact, I found out at breakfast that my guest-house host, Alan Weston, would be doing the "Westering Home" programme on Wednesday evening.
I ask Alex what advantages the station gains from being so small and am surprised at his answer.
"There aren't many advantages," he says.
Although charges for licences and copyright are tiered, Two Lochs falls miles below even the lowest band. Yet it faces the same high costs as a much larger station.
As you'd guess, there's lots of legislation and paperwork. Great care needs to be taken with everything broadcast, and it's all to be recorded 24/7.
Alex's dream is for new premises, but when it's a non-profit making organisation working on a shoestring, you've just to work within your means.
Alex taps the external wall.
"It's just corrugated tin with our acoustic tiles stuck on the inside – not ideal."
A vast area
Through sponsorship, fund-raising, advertising and a membership scheme, they're able to meet the hefty £600 a week running costs, but it's not easy.
It's not only the studio that needs maintained. There are the transmitters on various hill tops, too.
Small as Two Lochs is, Wester Ross covers a vast area. And while the whole of Glasgow can be served by one transmitter, out here, with a tiny fraction of Glasgow's population, nearer a dozen transmitters are needed.
And, as Alex explains, there are no roads to the top of the hills — and taking electricity to them is very expensive.
I ask if the wild winter storms ever affect them. Alex points across the loch to the hill above Badachro. I can just make out a wee hut and mast.
"Our worst disaster was in 2005," he reflects.
They had built the mast themselves, and as a consequence, and being on a windy hilltop, the insurance company refused to cover it.
"In the end, our mast survived and everything else went!"
Inside the station door is a Scottish Business in the Community Award plaque, presented to them by Prince Charles in 2004. This isn't the only award they've won.
Three times they've won the Wallace Sword award for the best Gaelic language magazine programme produced in the Highlands.
"In fact," Alex says, "the last time, they just let us keep it!"
Since 2003, Alice Mackenzie has done over 600 Gaelic programmes.
Not all presenters are local, though. Lew Alpaugh sends his programme of "Backroads" from his home at Point Cross, Cape Breton.
Another comes from a studio in Southern California, and one from nearer home at Kinross.
On ye go
Before I leave Alex, he suggests I go down to the Shop at the Pier and meet David Caruthers.
He's a former director of Moray Firth Radio and, having moved to the area 30 years ago, he came up with the initial idea of this station.
I find him spreading top soil in the community garden.
David was gathering funds for a radio station from around 1992. But as community radio was a new concept, the rules and regulations were just too off-putting.
But when Alex arrived in 1998 and showed great enthusiasm, the original group gladly presented him with the funds they'd raised and told him, "On ye go."
And if you tune in you can judge the result for yourself.
---
For more about World Radio Day, click here.
Click here to learn about the "Friend" team's favourite podcasts, a medium we're sure will appeal to radio lovers!