An Expert's Tips On Floral Design Day
---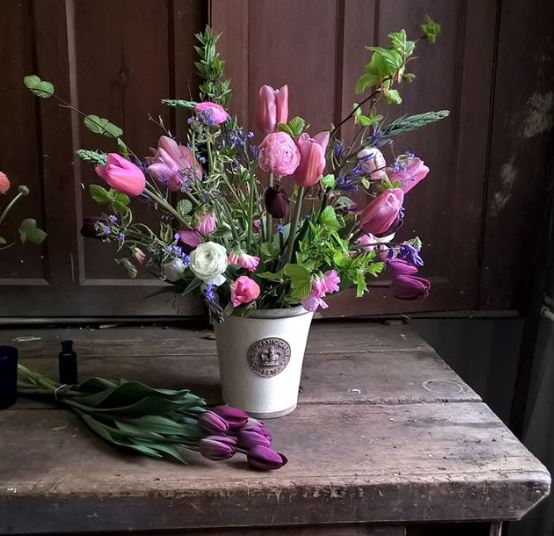 Photograph courtesy of Holker Hall And Gardens.
February 28th is Floral Design Day, the day when keen flower arrangers celebrate their passion, their creativity, and their horticultural skills.
To mark the occasion, Amy Beach, flower grower at Holker Hall and Gardens, near Grange over Sands, is here to share her top tips.
So if you want to create beautiful displays right at home, using just the flowers from your garden, this is the article for you!
1. Condition your flowers before arranging
Harvest your flowers early in the morning or the evening avoiding the hottest part of the day and place them into cool water for a few hours before arranging. This gives the stems time to 'drink' which prevents them for wilting in the vase and making a longer lasting display, a process known as 'conditioning'
2. It's not just colour that counts
Choose stems that have an interesting shape and structure or texture to make arrangements stand out. Three or four taller flowers in and amongst a display – or even a selection of grasses or different types of foliage – will give arrangements height and a naturalistic touch.
3. Experiment with different vases and vessels
A wild and billowy arrangement of garden flowers can look just as good in a formal vase, as a rustic. Even a pretty jam jar or upcycled tin can will add interest to a shelf or table.
4. Have fun trying different colour combinations
Choose similar tones and hues of your favourite colour or be bold and throw in some striking contrasts! Oranges and violets can really pop in the evening light but are more subdued by day. The key is to be creative and allow your own personal style to develop.
5. Don't dismiss anything as a weed
Forget what you class as a 'flower' and a 'weed'. If it looks pretty or has a nice shape, structure or texture, then go with it, particularly out of season. It's amazing what you can create from things growing in the garden or nearby. Hedgerow cow parsley, interesting grasses – even buttercups found a place in the show gardens of Chelsea last year!
About Amy
Amy's stunning displays are created using homegrown blooms and adorn the grand rooms of the 400-year-old Grade II-listed Holker Hall all year round.
"People are often too frightened to have a go at creating their own arrangements because they assume you need training and that you have to know all about flowers.
"But anyone can give it a go. It's about experimenting with the colours you love and remembering to add in foliage as well as stems that offer interesting shape and structure."
"Floral Design Day is the perfect time to try flower arranging and to simply enjoy the creative opportunity it provides," Amy added.
"We grow all year round here at Holker. There's always something that can be used to create a display.
"I hope more people will look at their own gardens with fresh eyes to see what they can use to bring some colour and scent indoors."
For more gardening advice from "The People's Friend", click here.
Click here for some suggestions of what you can get planting this springtime.