Slow-roasted Pork with Braised Leeks and Kale
---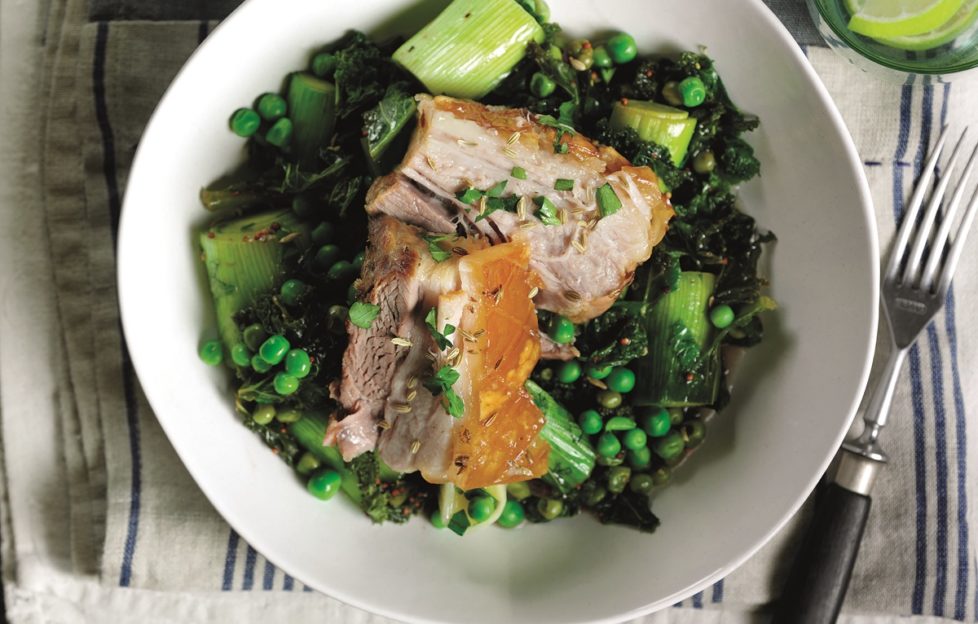 Image courtesy of Discover Great Veg.
Ingredients
Salt and freshly ground black pepper, to taste
1 x 500 g pack belly pork joint
1 tsp fennel seeds
500 ml (18 fl oz) chicken stock
300 g (10½ oz) leeks, cut into 3 cm (1¼ in) pieces
50 g (1¾ oz) kale
50 g (1¾ oz) frozen peas
1 tbs cranberry sauce
1 tsp wholegrain mustard
25 g (1 oz) parsley, chopped roughly
Recipe courtesy of Discover Great Veg.
Did you know that kale is one of the most nutrient-dense foods on the planet?
You'll find it frequently referred to as a "superfood" for its concentrations of vitamins and minerals. It can also help lower cholesterol, and even fight cancer.
That's why people find a range of inventive ways to work it into their diet, from smoothies and soups to porridge and sandwiches.
This week, we've decided on Slow-roasted Pork With Braised Leeks and Kale.
It's not just delicious, it's also good for you!
Method:
Pre-heat the oven to 200 deg. C., 400 deg. F., Gas Mark 6.

Season the pork and sprinkle over the fennel seeds. Place in a small roasting tin with 250 ml (9 fl oz) stock.

Roast in the pre-heated oven for 15 minutes. Reduce the oven temperature to 150 deg. C., 300 deg. F., Gas Mark 2 and continue to cook for 2 hours until tender.

Meanwhile, place the leeks, kale and peas in a large frying-pan and pour over the remaining stock, cranberry sauce and mustard. Cover and simmer for 5 minutes.

Cut the pork in half and serve with the braised leeks and kale.
Enjoy!
For more recipes from "The People's Friend", click here.