"Fateful Flowers" By Christian Byrde
---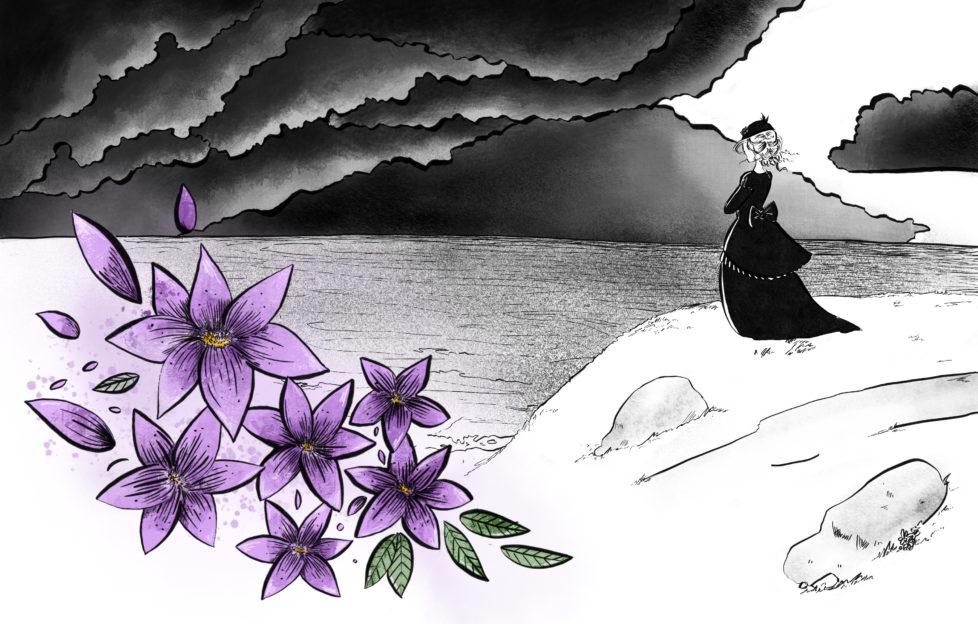 This is part one of a story that first appeared in the pages of "The People's Friend" in December 1877.
Part two will follow in next week's Fiction Newsletter.
---
In ancient times the small island of Heligoland was if such extent that it contained nine parishes with their townships; but storms and tides combined for many years to change the shape of the rocky isle and to bury a great portion of it in the sea, which now forms dangerous reefs.
Nevertheless on a firm stretch of land the inhabitants built their houses, and since Heligoland became a fashionable bathing-place, many fine hotels enhance its beauty.
Some yards from that favoured tongue of land extend eastward of the island sandy downs, which once formed part of Heligoland; but the sea in fine fury gradually parted them, and heaped up the sand in irregular hills.
The visitors make the downs their bathing resort, and in summer they are covered with machines, and a wooden pavilion serves as buffet for the bathers. Not far from it rises a small brick house which in winter contains every necessary for shipwrecked mariners; for the terrific storms that often rage at that season of the year render the arm of the sea dividing the downs from the mainland for hours impassable.
On a mild, beautiful day, such as seldom visits northern climates at the end of September, a young couple, evidently lovers, wandered in solitude on these deserted downs.
The young man's sturdy build and manly bearing indicated his calling as that of a sailor. The maiden, as she hung on his arm with trusting abandon, formed a lovely picture. Both wore the costume of the natives of Heligoland, which is very picturesque.
Christine Niels, the daughter of a tolerably well-to-do tradesman, walked with the man of her choice, without either the knowledge or consent of her parents, as they disapproved of Harold Ericson, the fisherman and pilot, for their child, because he possessed nothing, not even a boat, but hired himself out to a shipowner.
Christine was a remarkable beautiful girl, and they expected her to marry well, for even distinguished foreigners admired her lovely fair hair, her beaming eyes, and all the charms Nature lavished upon her.
But the maiden herself disdained both the flatteries of strangers and the attentions of another brave young native, who by his wealth seemed able to ensure her a better future than poor Ericson; but the latter was the friend of her childhood, when they played together in the meadow near the old lighthouse, and her innocent heart leaped for joy when he chose her in preference to all the others at the balls at "Blue Water Inn"; and when he told her how much he loved her, and never intended to marry anyone else, then she felt him to be dearer to her than all else in the world, and that her happiness depended upon becoming his.
Matters went on smoothly enough until old Niels forbade Harold to visit his house as his daughter's lover, and he prevented Christine from going to any more dances.
Then a spirit of opposition arose in the hitherto obedient child's mind, and the betrothed often found opportunities if meeting in secret and assuring one another of their firm determination to remain true to their promise.
---
---
---
Take a look at this video of Illustrations Editor Manon creating the fantastic design for this story!
---
---
---
There exists about the middle of the sandy island, so surrounded by tolerably large downs as to be inaccessible to the waves, a little level plain enclosed by a low fence.
The beholder, on looking on, only sees white sand heaped up into small, irregular hillocks. It is covered by patches of plants having dark brown heart-shaped leaves and numerous purple blossoms.
Even experienced botanists know neither their names nor original home, and, as the downs bear nothing by stunted grass, it seems strange to find such flowers in the particular spot. This enclosure is the burial ground for drowned strangers, whose corpses are often thrown by the tide upon the island, and people think that the seeds of the foreign plants must be brought by birds of passage.
They form the only ornament of the lowly graveyard, where stands no memorial tablet, for those buried in it are nameless and unknown.
Christine and Harold stopped thoughtfully before the simple house of the dead, and the young man's expression grew tender and sad as he remembered that he too might someday find his last resting place in a strange land, with no friendly hand to close his eyes.
But Ericson never gave way to idle dreams, the stern realities of life occupied him too much for such chimeras; he resolutely put away all sad reflections, and twining his arm round Christine's slender waist –
"Look at those lovely flowers, dearest, how suitable for your fair hair,"
"What nonsense, Harold," replied she, reproachfully. "It is unlucky to gather any flowers growing on graves."
"You surely are not superstitious, child?" asked the youth, laughing, as he stooped over the low paling to pick up a few blossoms. "Believe me, the good fellows who rest here so peacefully gladly permit a comrade to gather a couple of buds for his sweetheart!"
"Harold!" cried the girl in alarm, "pray leave off; it is sacrilege to rob the dead!"
But the youth had already held the flower in his hand.
"Heaven keep me from sin," he remarked, growing suddenly grave. "Had you spoken sooner I had left the plants untouched; but a few blossoms more or less cannot signify.
"Be reasonable, Jina," he continued, as he noticed how pale she turned, and stared at his purple spoils. "I intended no harm, and the dead will forgive me."
But instead of noticing him she snatched the little bouquet with a trembling hand away from him.
"If it brings ill luck, I must share it with you, Harold."
"How absurd!" exclaimed Ericson, vexed, for he shared the superstitious feelings he laughed at in her. "Throw the flowers away, and let us walk on."
"No, no," said the maiden decidedly, hiding the bouquet in her bosom. "It is too late, we must bear whatever Heaven may send us. Oh, Harold, if you only knew how sad I feel."
The sailor found it difficult to resume his cheerful tone, for Christine's dejected countenance made it almost impossible.  However, he endeavoured to reassure her as they proceeded on their way.
"Grandmother says people ought never to touch those flowers, and she is a wise old woman. If they do, misfortune overtakes them very soon."
"Sunset approaches," he said, purposely changing the conversation, "we must return so that you may not be scolded for being late home."
"Do be careful when you go again to sea," said the young girl, beseechingly. "Run no unnecessary risk. Think of me, Harold dear; if anything happened to you I should die of a broken heart!"
"Our lives are in God's keeping," he replied, with pious reverence. "I cannot, however, forget any advice coming from you, my dear child."
"I intend keeping these flowers until all fear of evil as passed away," she answered.
The lad said no more, but, deeply moved by Christine's willingness to share even ill-luck with him, he kissed her fervently. Their forebodings rendered their parting more painful than usual, but delay became impossible, for the setting sun covered the horizon with its purple rays, and night approached rapidly.
He entered his tiny skiff in which he came across, and she hastened with quick steps to the common landing place where lay the large ferry boats.
To be continued . . .
---
Click here to read more of our fantastic Fiction content.
Click here to delve into our dramatic Daily Serial.