Life In The Fast Lane: Sir Stirling Moss OBE
---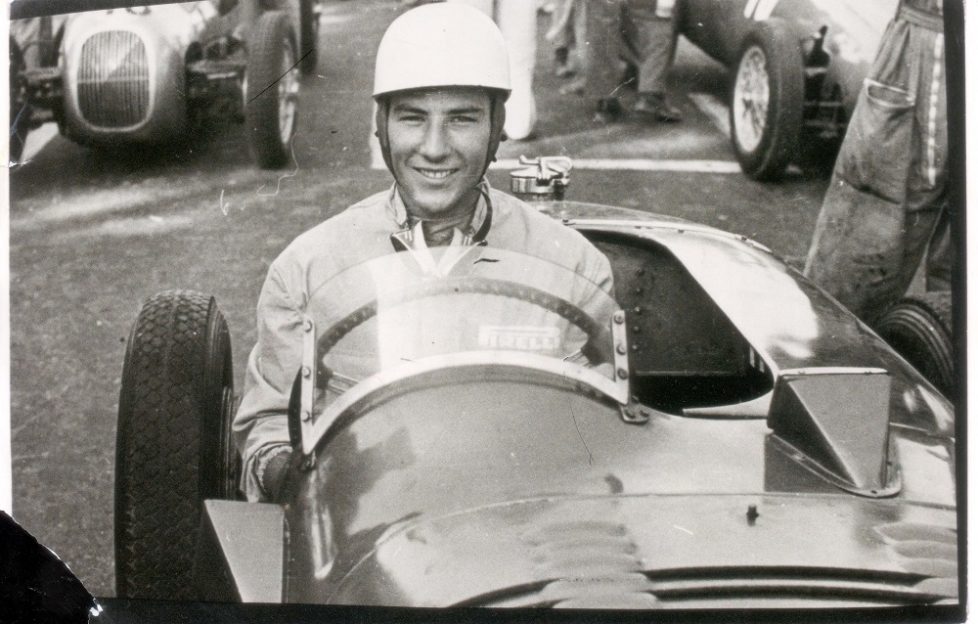 Photo by Bill Cross/Daily Mail/Shutterstock.
In our January 4 issue earlier this year, I had the opportunity to speak to Val Pirie, former secretary of the late racing legend Sir Stirling Moss.
Val had a book coming out about her life as Stirling's secretary. In memory of the great driver, here's that feature in full.
---
As a young woman, Val Pirie found herself discouraged from pursuing the career in medicine she had desperately wanted.
"I refused to work because I wasn't allowed to do what I wanted to do. I went on strike, virtually."
But she was bored, and she knew that at seventeen years old, she was unlikely to get anything exciting.
"So I went along to an agency in the Strand and I said I was twenty-one!"
The agency sent her for an interview at Stirling Moss Ltd. Much to her surprise, she received an offer of employment the same day.
It was a while before Stirling actually visited the office, arriving like a "whirlwind" when he did.
"He had more or less forgotten that I was going to be there. He rushed into his office and plonked his bag down."
The golden age of motorsport
Val's first impressions of Stirling were of a shy but determined young man, and soon a friendship bloomed as she found herself taking on all manner of jobs for her new employer.
"I did so much, from being a secretary to running errands. After his divorce, I looked after his household, too.
"I was made foreman of a new building for the firm, but Stirling kept losing his road licence!
"I had to keep driving him out to the airport and on various errands and journeys."
Val remembers Stirling's rapport with the press.
"If any motoring correspondents rang while he was out, Stirling would call them back as soon as he could."
These were different times, Val remembers, when the relationship between celebrities and the press was friendlier.
"If Stirling made an off-the-cuff remark in an interview, it wouldn't make it into the papers.
"Undoubtedly it was the golden age of motor sport — and a wonderful time to be alive.
"London was a lot smaller then, and we all knew each other. Today it is quite an impersonal city."
Safety on the track was a big worry back then.
"It was basic in those days. Stirling started the Grand Prix Drivers' Association, as the drivers really didn't have any say in anything on the circuits. It was a long process of gradually eroding the authority of the bigwigs."
The GDPA was all about bringing the safety concerns of drivers to the forefront, and Stirling was the first chairman. He left it in 1963, but the organisation had later victories in removing the infamous Circuit de Spa-Francorchamps and Nürburgring tracks from the circuit for being too dangerous.
It was time to move on
Stirling's career drew to an end after his crash in 1962, but in those pioneering days, did worries about personal safety ever give him pause for thought?
"Never! No, he never talked about it apart from when a good mate of ours, Harry Shell, died. I was very upset about it and he said, 'If you can't stand the heat, get out of the kitchen'."
After Stirling's big 1962 crash at Goodwood, everything changed for him.
"James Cracknell had the same kind of injuries as Stirling did, and he has had similar problems.
"He got rather punchy at one time – it was very difficult to stop him from going outside and picking a fight with somebody walking down the street."
The accident changed everything for Val, too. It was time to move on.
"There was far less to do after his accident and it wasn't so interesting. There weren't any projects on the go then."
"I think our friendship survived because I didn't let him get away with anything!
"Celebrities tend to because of who they are, but they are no different from you or me.
"I would never let Stirling get away with anything and I think that he respected me for speaking up.
"He wouldn't acknowledge it, though — even today he has always got to be right!"
For more great Features from "The People's Friend", click here.