Salmon And Egg Breakfast Wrap
---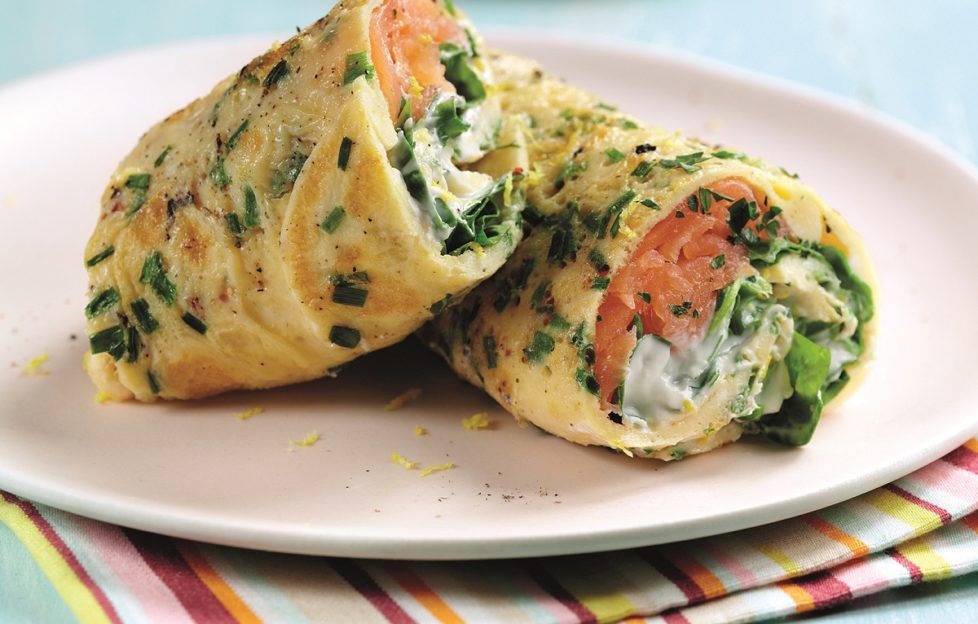 Image courtesy of British Lion Eggs.
Ingredients
2 large British lion eggs, beaten
1 tbs chopped fresh dill or chives
Salt and freshly ground black pepper, to taste
A drizzle of olive oil
2 tbs fat free Greek yoghurt
A little grated zest and a squeeze of lemon juice
40 g (1½ oz) smoked salmon, sliced into strips
A handful of watercress, spinach and rocket leaf salad
Recipe courtesy of British Lion Eggs.
Looking for a new way to start the day? A Salmon And Egg Breakfast Wrap could be the solution!
Method:
In a jug, beat the eggs and herbs and season with salt and pepper.

Heat a non-stick frying-pan, then add the oil and then pour in the eggs and cook for one minute or until the egg on the top has just set.

Flip over and cook for a further one minute until the base is golden. Transfer to a board to cool.

Mix the yoghurt with the lemon zest and juice and plenty of ground black pepper. Scatter the smoked salmon over the egg wrap, top with the leaves and drizzle the yoghurt mix over.

Roll up the egg wrap and wrap in paper to serve.
Not only is it quick and easy, a Salmon And Egg Breakfast Wrap is also great if you're on the go! 
When we're all allowed to be "on the go" again, that is . . .
For more delicious recipes from "The People's Friend", click here.
If you can't get to the shops just now for your "Friend", subscribe now by clicking here. This will mean your "Friend" will come straight to your doorstep! 
You can also take out a digital subscription, meaning your issue will come straight to your computer, tablet or phone! And it's great value for money. Click here for more details.