Roasted Mediterranean Vegetables With Halloumi
---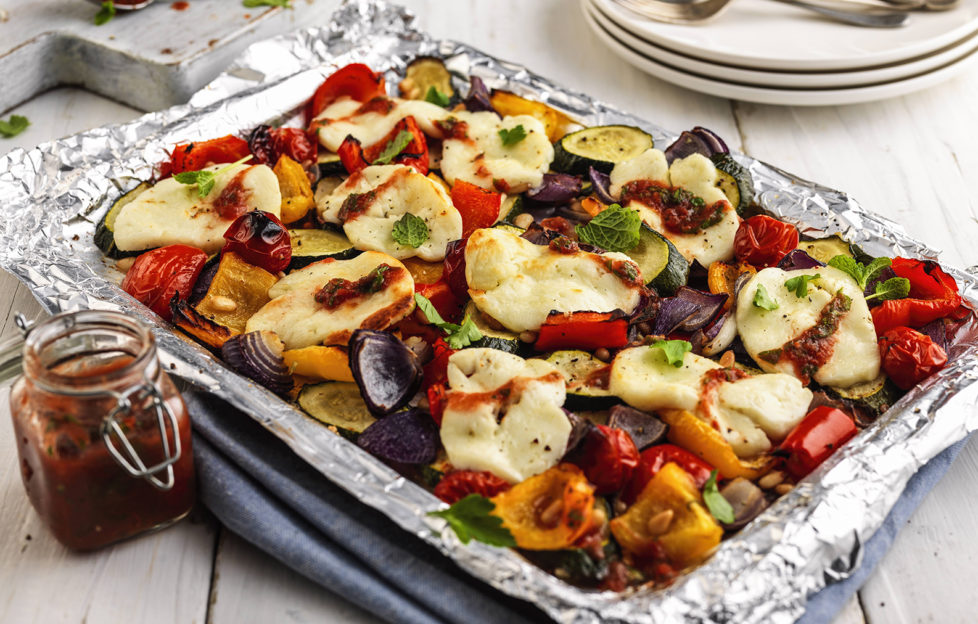 Image courtesy of Bacofoil.
Ingredients
1 large red onion, peeled and cut into wedges
1 yellow pepper, cut into chunks
1 red pepper, cut into chunks
2 medium courgettes, sliced
1-2 tsp olive oil
8-10 cherry tomatoes
1 clove garlic, crushed
Salt and freshly ground black pepper, to taste
1 tbs pine nuts
1 x pack halloumi cheese, cut into about 9 slices
For the Dressing:
2 tbs passata
1 tbs extra virgin olive oil
2-3 tsp red wine vinegar
Small handful fresh mint leaves
A few fresh parsley or oregano leaves
To Serve: crusty bread.
Recipe courtesy of Bacofoil.
Looking for a new way to get your five a day? Why not try roasted vegetables with a little halloumi?
The current lockdown means we've all been exploring different meal options, after all!
Method:
Pre-heat oven to 190 deg. C., 375 deg. F., Gas Mark 5.

Loosely line a large shallow oven tray with a large piece of Bacofoil Non-Stick Foil (remember to always place food on the dull side) and place the pieces of onion, pepper and courgette on to it.

Drizzle with the olive oil and gently toss together, using clean hands. Roast in the pre-heated oven for 20 minutes until the vegetables are just starting to turn brown round the edges.

Meanwhile make the dressing. Mix the passata, extra virgin olive oil and red wine vinegar in a small bowl. Chop the herbs, reserving a few whole mint leaves for garnish, and stir into the dressing

Remove the roasted vegetables from the oven and add the cherry tomatoes and garlic. Season with a little pepper and carefully mix in. Scatter over the pine nuts.

Arrange the slices of halloumi over the top and return to the oven for a further 10 minutes. Alternatively place under the grill for a couple of minutes.

Drizzle with the dressing and scatter over the remaining mint leaves. Serve with some crusty bread.
For more delicious recipes from "The People's Friend", click here.
If you can't get to the shops just now for your "Friend", subscribe now by clicking here. This will mean your "Friend" will come straight to your doorstep! 
You can also take out a digital subscription, meaning your issue will come straight to your computer, tablet or phone! And it's great value for money. Click here for more details.