Fennel Pork Medallions With Apple Slaw
---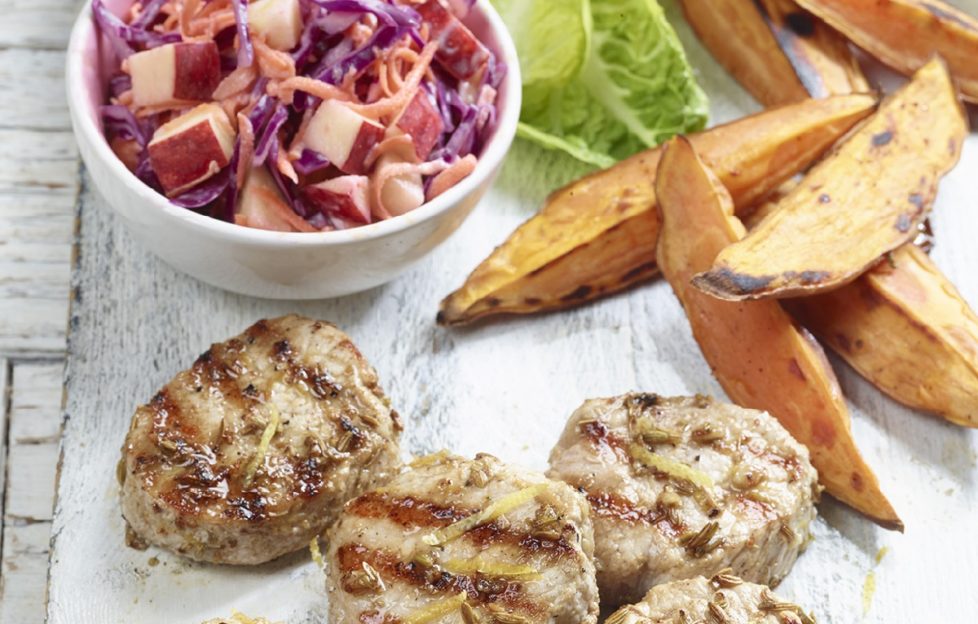 Image courtesy of Love Pork.
Ingredients
12 pork fillet medallions
1 tsp fennel seeds
1 clove garlic
1 tbs olive oil
½ lemon, grated zest only, reserve juice for the apple slaw
Salt and freshly ground black pepper, to taste
For the Apple Slaw:
1 red eating apple, cored
2 tsp cider vinegar or white wine vinegar
4 tbs 0% fat Greek natural yoghurt
½ lemon, juice only
2 tsp Dijon mustard
½ small red cabbage, shredded thinly
2 carrots, peeled and grated coarsely
To Serve: sweet potato wedges or mixed green salad
Recipe courtesy of Love Pork.
"Get some pork on your fork!"
These are the famous words of a long-running ad campaign in Australia (rhyming may vary, depending on your accent).
Well, we've taken it to heart this week. 
And we definitely think you'll enjoy these Fennel Pork Medallions With Apple Slaw.
Method:
Pre-heat oven to 180 deg. C., 350 deg. F., Gas Mark 4.

Place the medallions on a board between two sheets of clingfilm. Using the base of a small saucepan or rolling pin, bash them all over until they're 1 cm (½ in) thick.

Lightly crush the fennel seeds and garlic, place in a shallow dish and mix with the oil and lemon zest and a good grind of black pepper. Add the pork medallions and turn to coat. Set aside for 10 minutes whilst you make the slaw.

To make the slaw, chop the apple into small pieces, place in a large bowl and pour over the vinegar, to prevent them going brown. Add in the yoghurt, lemon juice and mustard and mix until combined. Then add the cabbage and carrots.

Mix well, until all the ingredients are coated, and season to taste.

Heat a non-stick ovenproof griddle or frying-pan for a couple of minutes until hot. Add the pork medallions to the pan and cook for 3 minutes on one side. Turn the medallions over and place the pan in the oven. Cook for a further 6 to 8 minutes or until the juices run clear.

Serve 3 pork medallions with the slaw and a few sweet potato wedges or crisp green salad.
For more delicious recipes from "The People's Friend", click here.
If you can't get to the shops just now for your "Friend", subscribe now by clicking here. This will mean your "Friend" will come straight to your doorstep! 
You can also take out a digital subscription, meaning your issue will come straight to your computer, tablet or phone! And it's great value for money. Click here for more details.