Coeliac-Friendly Mini Elderflower and Lemon Loaf Cakes
---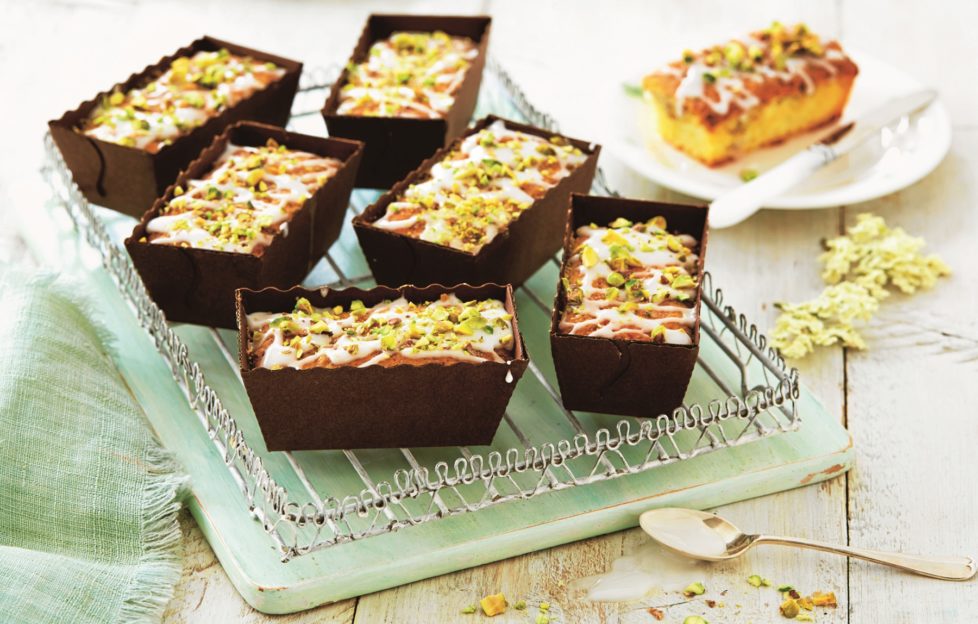 Image courtesy of Belvoir Fruit Cordials
Ingredients
40 g (1½ oz) pistachios, chopped roughly, plus extra to decorate
160 g (5½ oz) ground almonds
40 g (1½ oz) rice flour
1½ tsp gluten-free baking powder
½ tsp fine salt
175 g (6 oz) unsalted butter, softened
175 g (6 oz) caster sugar
Finely grated zest of 2 lemons and juice of 1
3 large eggs, beaten lightly
For the Icing:
150 g (5½ oz) icing sugar, sifted
Juice of ½ a lemon
2 tbs of Belvoir Elderflower Cordial (you may need a little extra)
Recipe by Fiona Cairns. Recipe and image courtesy of Belvoir Fruit Cordials.
In the UK, Coeliac Awareness Week runs from 11-17 May, 2020.
Promoted by Coeliac UK, the week aims to raise awareness of Coeliac Disease, and to bring the gluten-free community together.
We thought we'd play our part this week by sharing some great gluten-free recipes. Today we're going with these cute little Mini Elderflower And Lemon Loaf Cakes!
Method:
Pre-heat the oven to 180 deg. C., 350 deg. F., Gas Mark 4.

Place 10 individual cardboard loaf cases on a rectangular tray which will hold them all in one tight layer.

Lightly roast the pistachios for 5 minutes on a baking tray. Place the ground almonds, rice flour, baking powder and salt into a bowl.

In an electric mixer, or using a bowl and electric whisk, cream together the butter, sugar and lemon zest until pale and fluffy. Gradually add the eggs and the almond mixture alternately, beating well between each addition.

Drizzle in the lemon juice and finally fold in the pistachios. Divide the mixture evenly between the cases. Bake for 30 to 35 minutes or until risen and the centres bounce back when lightly touched.

Whilst the cakes are baking, in a small bowl mix 1 tablespoon of icing sugar together with the lemon juice and elderflower cordial. On removal from the oven, immediately prick the surface of the cakes with a cocktail stick and spoon over half of the syrup. Allow the loaves to cool down completely.

To make the glacé icing, gradually add the remaining syrup, 1 teaspoon at a time, to the rest of the icing sugar until it is like pourable double cream. Add a little extra elderflower cordial if the icing is too thick. Drizzle the icing over the cooled cakes and scatter with the remaining pistachios. Allow the icing to set before serving.
For more delicious recipes from "The People's Friend", click here.
Read more about Gluten Free Community Week on the event's website, here.